The filing deadline for candidates running for Congress in Vermont this year was May 26, 2022. Seven candidates filed to run for Vermont's At-Large U.S. House district, a decade-high. That's one more than the six candidates who ran in 2020 and two more than the five who ran in 2018.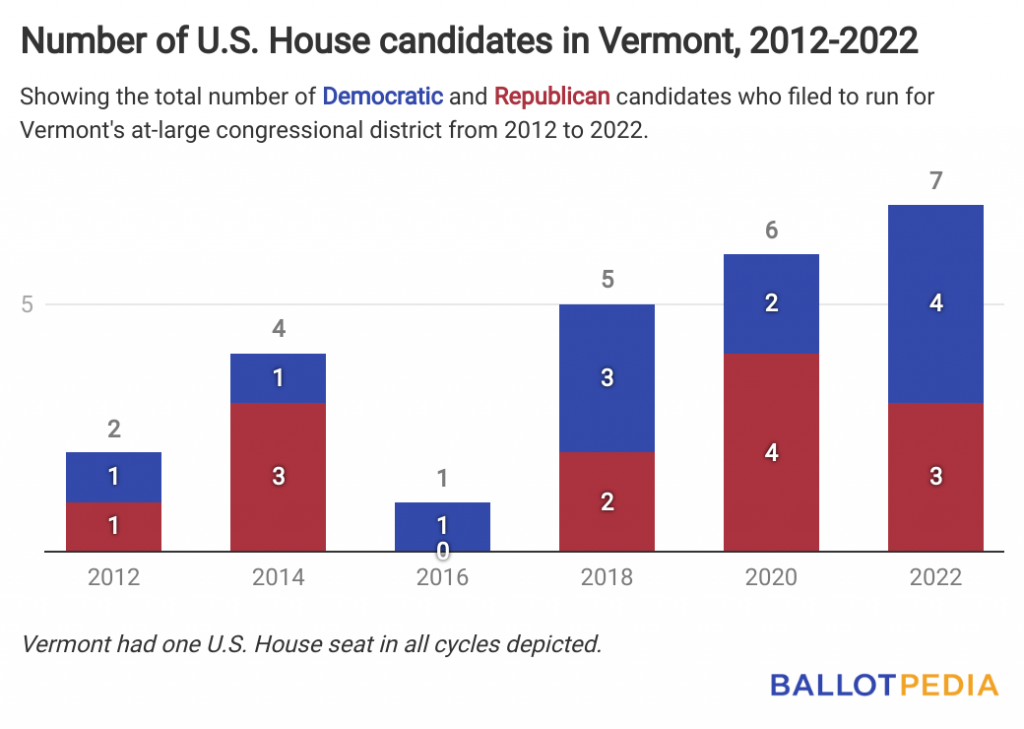 Here are some other highlights from this year's filings:
Because it has only one U.S. House seat, Vermont did not need to redistrict after the 2020 census.
Vermont's only U.S. House seat is open for the first time since 2006, when incumbent Rep. Peter Welch (D) was elected. Welch is retiring to run for the U.S. Senate.
Four Democrats and three Republicans are running to replace Welch, meaning both primaries are contested. Both primaries were contested in 2020 and 2018 as well.
Vermont and three other states — Connecticut, Minnesota, and Wisconsin — are holding primary elections on August 9, 2022. Winners in Vermont primary elections are determined via plurality vote, meaning that the candidate with the highest number of votes wins even if he or she did not win an outright majority of votes cast. In the event of a tie, a runoff election is held.
Additional reading:
List of U.S. Congress incumbents who are not running for re-election in 2022