There were 382 local ballot measures in 39 different states on the ballot for voters in the top 100 largest cities in the U.S. and state capitals. Of the measures, 348 (91.10%) were approved, and 34 (8.90%) were defeated.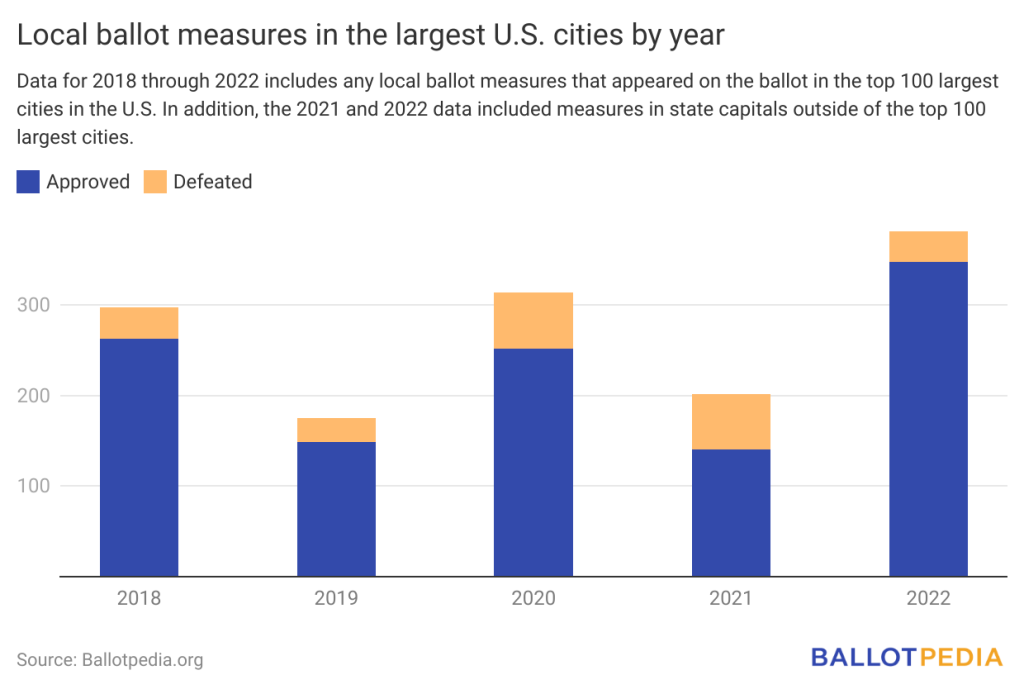 Of the 382 local ballot measures within the top 100 cities and state capitals in 2022, 20 (5.23%) were citizen-initiated ballot measures. Initiatives are placed on the ballot through signature drives. The remaining 362 (94.76%) were referred to the ballot by local legislative bodies, such as county boards, city councils, school boards, and special district boards.
In 2022, Ballotpedia covered local measures that appeared on the ballot for voters within the top 100 largest cities in the U.S. and in state capitals not among the 100 largest cities. This included citywide measures and countywide, special district, and school district measures. Ballotpedia also covered all local measures in California and all statewide ballot measures in the country. California local ballot measures are not included in the top-100 report aside from those included in the top 100 largest cities.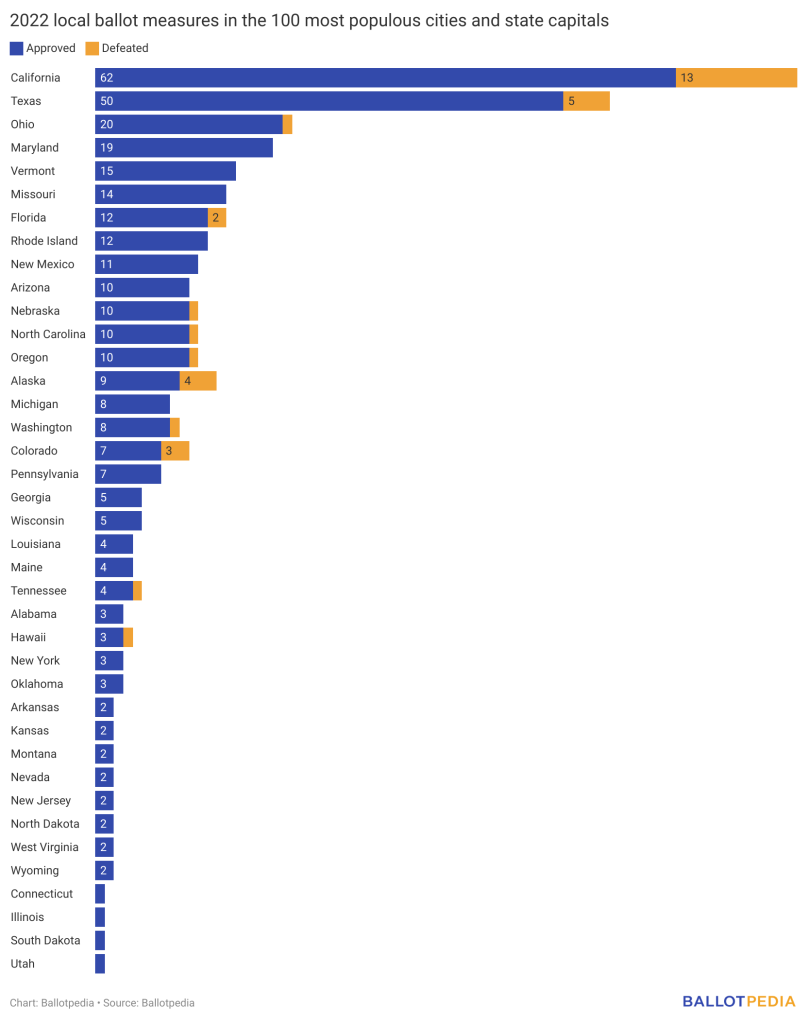 Among the top 100 largest cities, California (75 measures – 19.63%), Texas (55 measures – 14.40%), and Ohio (21 measures – 5.50%) were the three states with the most local measures covered.
The 2022 local ballot measures addressed a variety of topics from bond issues and taxes to local marijuana and local housing. Sixteen measures (4.19%) concerned elections, campaigns, and term limits. Thirteen measures (6.4%) concerned local law enforcement. Eighty-four (21.99%) concerned city, county, or district governance; local budgets; and public officials. Eighty-five measures (22.25%) concerned local taxes, and 113 measures (29.58%) were bond issues.
There were 113 local ballot measures that proposed the issuance of bonds in the top 100 largest cities and capitals in 2022 (including city, county, and school district bonds). The measures proposed a total of $32 billion in bonds. Voters approved 107 of the measures amounting to $31.34 billion. Voters rejected 6 ballot measures amounting to $697.6 million.
Ballotpedia also covered thirteen local ballot measures in four states — California, Colorado, Florida, and Washington — designed to move municipal election dates from odd to even-numbered years and to coincide with statewide elections, all of which were approved. Voters in Portland, Oregon, and Seattle, Washington, approved measures to adopt ranked-choice voting for certain elections.