The 2022 elections saw the second-highest midterm voter turnout since 2002, according to data compiled by the United States Election Project. The turnout rate in 2022 was 46.8%. Since 2002, the highest midterm turnout rate was in 2018, at 50.3%, and the lowest was in 2014, at 36.7%.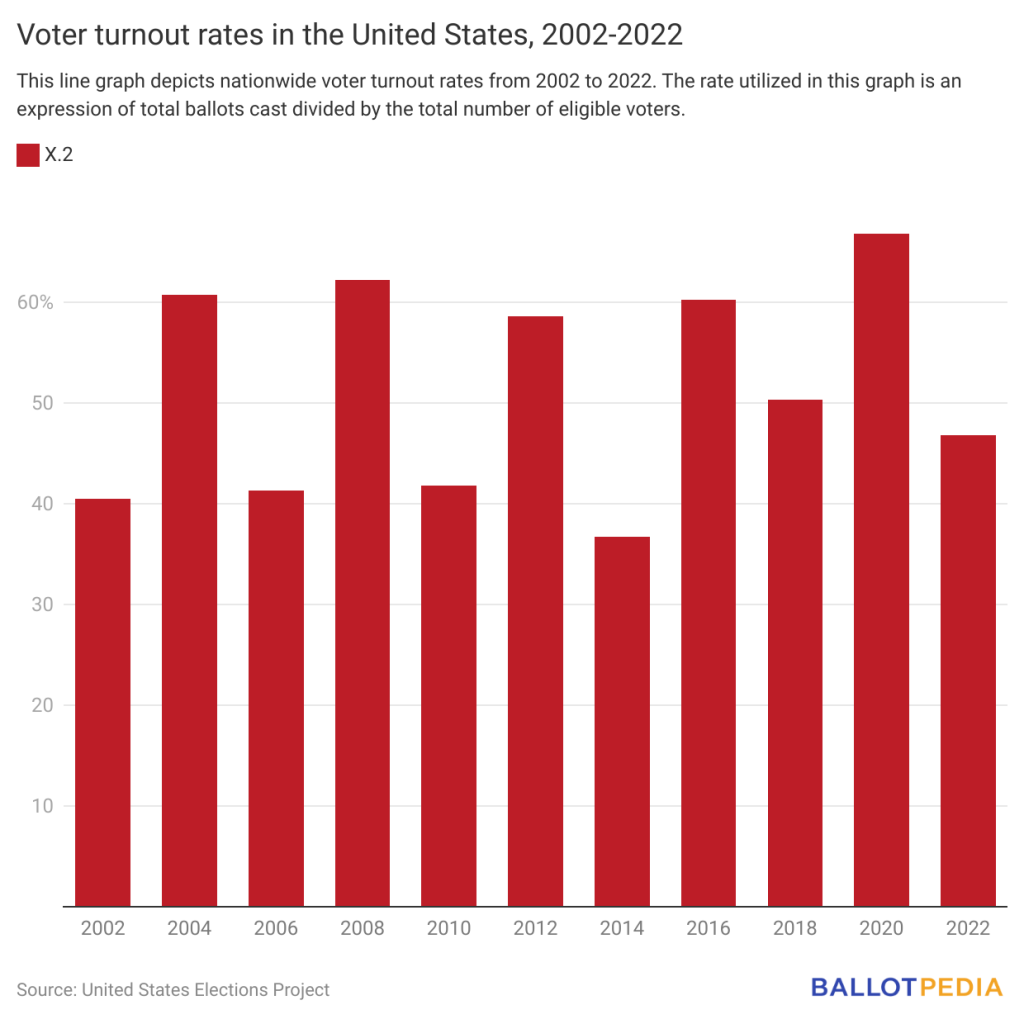 At the state level, Oregon had the highest voter turnout in 2022, at 61.51%. Tennessee had the lowest turnout, at 31.34%. See the chart below for turnout rates in each state.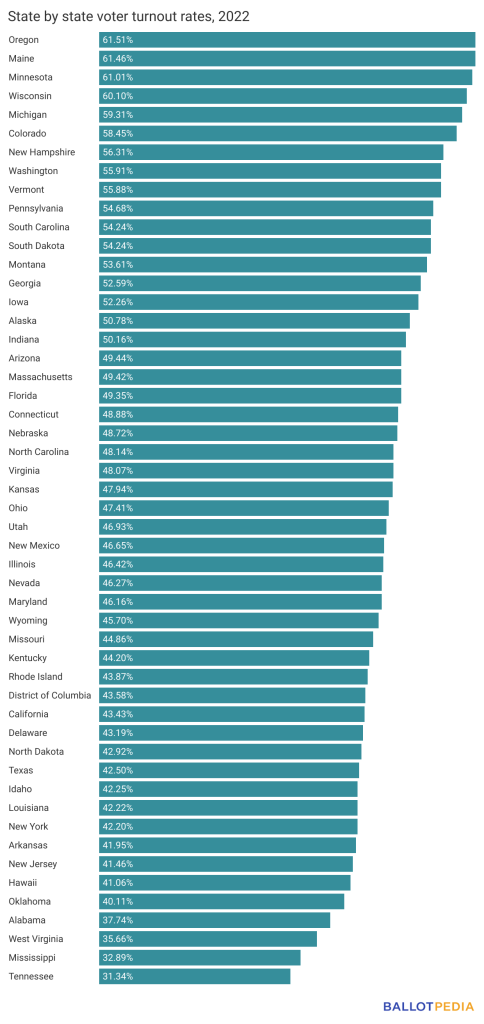 Comparing 2022 turnout rates to 2018, the most recent midterm election, North Dakota saw the largest drop in turnout, going from 58.6% in 2018 to 42.9% in 2022. The largest increase was in South Carolina where turnout increased from 45.2% in 2018 to 54.2% in 2022.
Among the five states that saw the largest decrease in voter turnout, four states had Republican trifectas and one state had a Democratic trifecta at the time of the 2022 elections. North Dakota (-15.68%), Tennessee (-13.76%), Mississippi (-9.81%), and Alabama (-9.56%) had Republican trifectas. New Jersey (-11.64%) had a Democratic trifecta.
Of the five states that had the largest increase in voter turnout, three had Republican trifectas, one had a Democratic trifecta, and one had divided government. South Carolina (+9.04%), Indiana (+3.26%), and New Hampshire (+1.71%) had Republican trifectas. Hawaii (+1.76%) had a Democratic trifecta, and Pennsylvania (+3.28%) had a divided government.
See the charts below for the five largest decreases and increases in voter turnout between 2018 and 2022.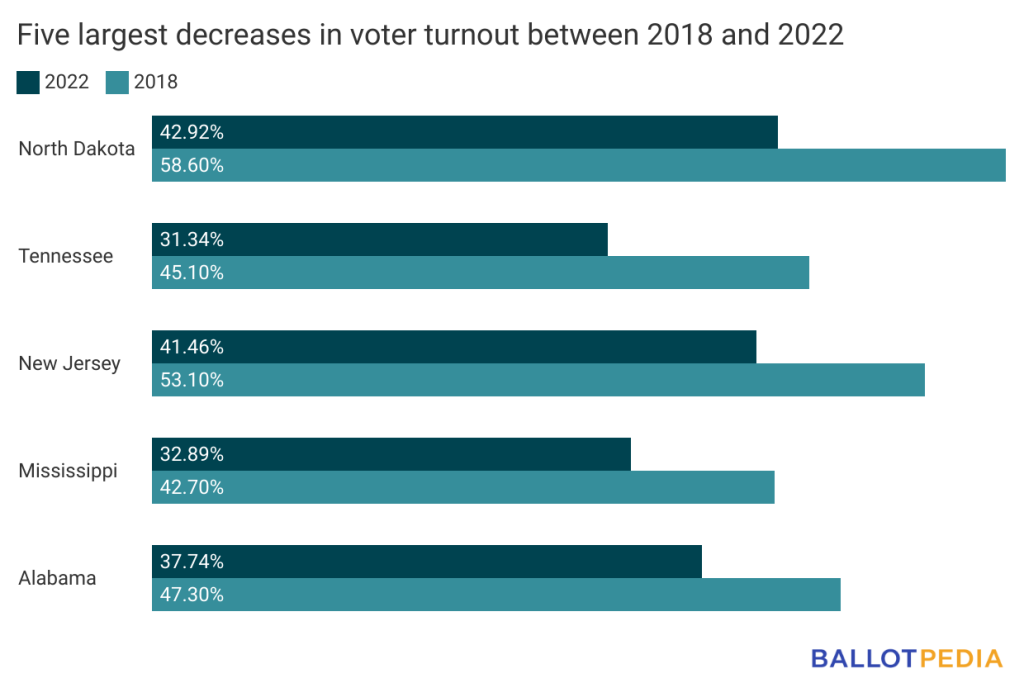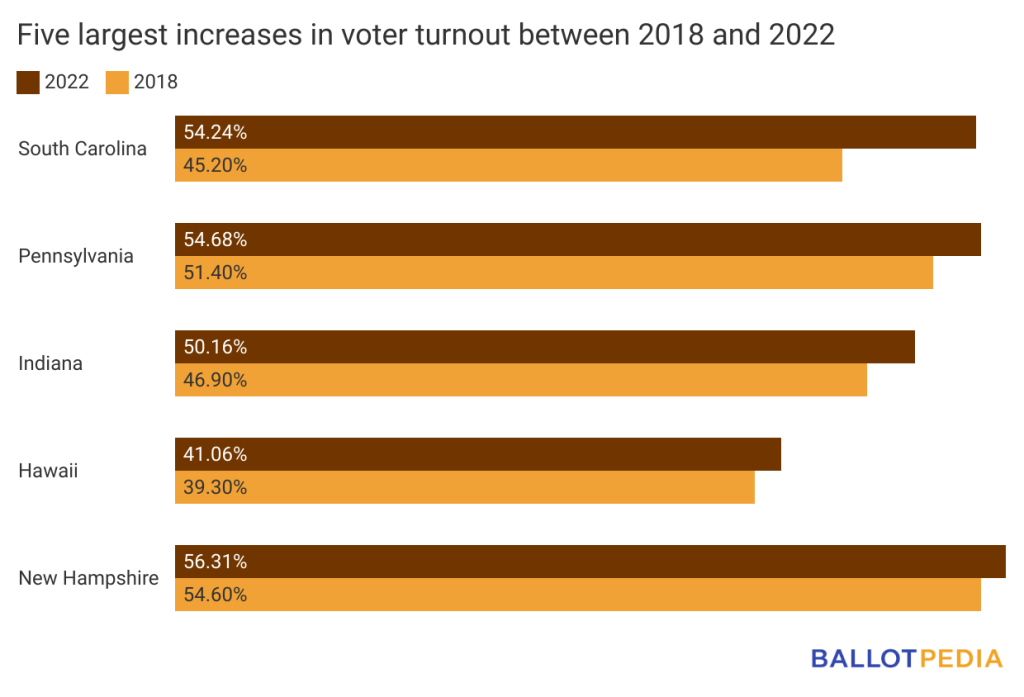 Additional reading: