All 50 state constitutions mandate that the governor give an annual (or regular) report to the state legislature on the condition of the state. This speech is most commonly referred to as the State of the State address, although it is known as the Condition of the State address in Iowa and the State of the Commonwealth address in Kentucky, Massachusetts, Pennsylvania, and Virginia.
As of January 29, 30 governors—14 Democrats and 16 Republicans—have delivered their 2023 annual State of the State address to their state legislature. Eight more governors are scheduled to deliver theirs between now and March 7.
Four of the governors who have delivered their addresses so far—Katie Hobbs (D-Ariz.), Josh Green (D-Hawaii), James Pillen (R-Neb.), and Joe Lombardo (R-Nev.)—were first elected in November of last year and were giving their annual report for the first time. The 26 other governors who addressed their state legislatures were returning incumbents.
Besides reporting on the condition of their states, the governors also laid out their priorities and goals for this year's legislative session in their addresses. Below you can see a word cloud of the most common words used in the addresses delivered by Democratic and Republican chief state executives so far this year.
While some words like "state" (used 1029 times), "people" (415) and "work" (357) feature prominently in both Democratic and Republican addresses, others appear more often on one side than on the other.
In Democratic addresses, the words "housing" (used 158 times), "families" (145) and "health" (145 times) are near the top. In Republican addresses, the words "million" (used 207 times), "tax" (174), and "school" (172) are among the most common.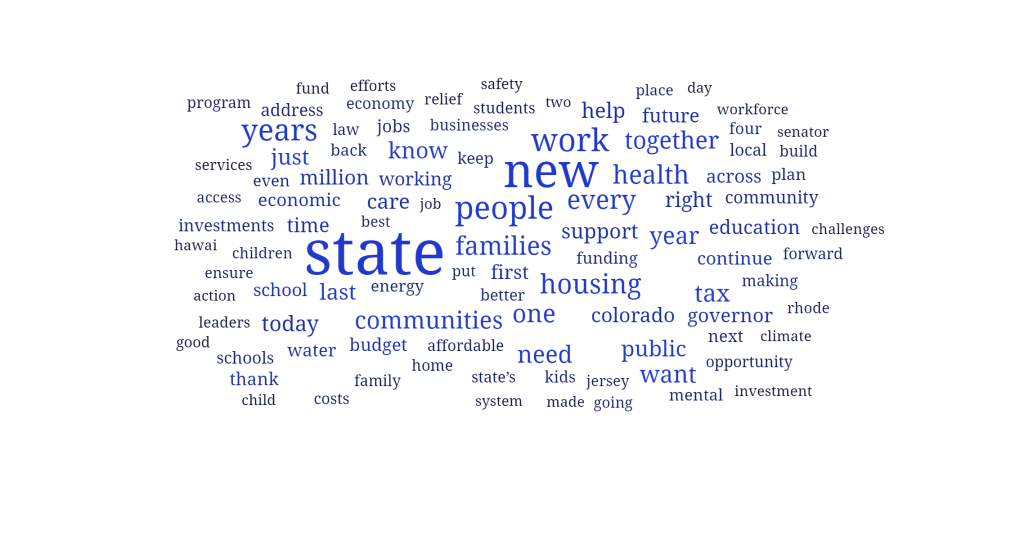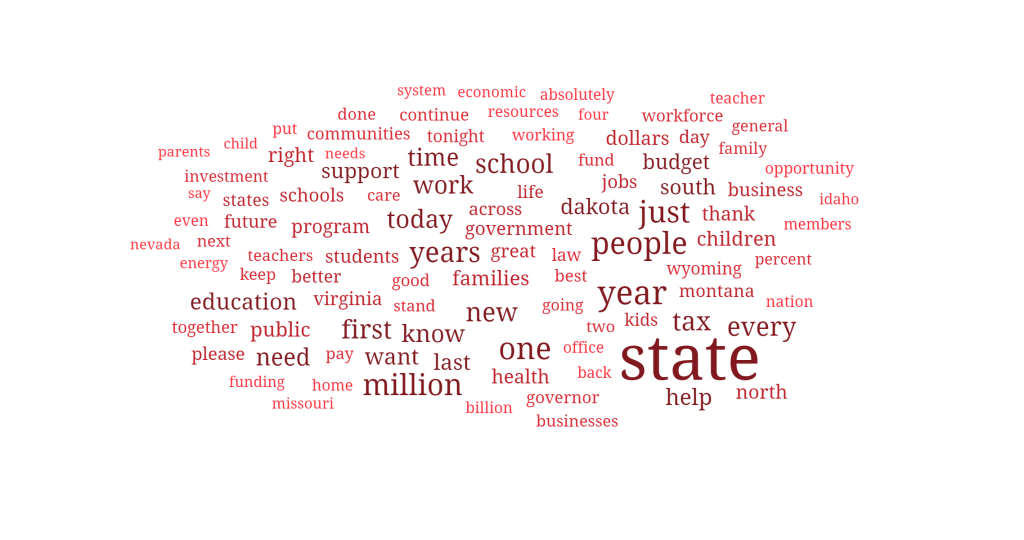 Each year, Ballotpedia tracks all of the State of the State addresses given by governors around the country. To see a list of all the addresses given so far this year, click on the link below.