The major party candidate filing deadline in Mississippi passed on Feb. 1, and, for the first time since Reconstruction, the number of Republicans running without Democratic opponents is large enough to guarantee Republican majorities in both legislative chambers.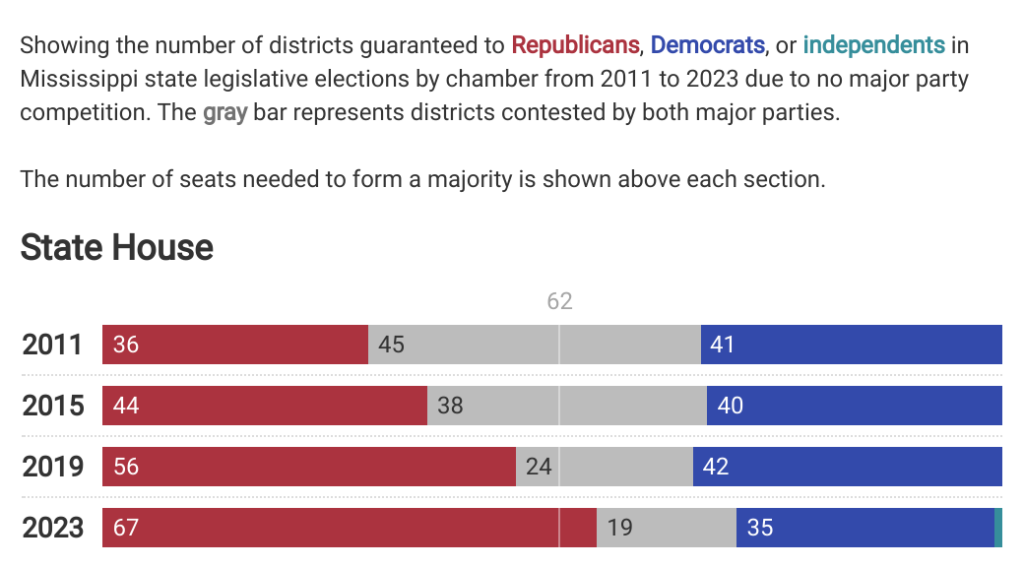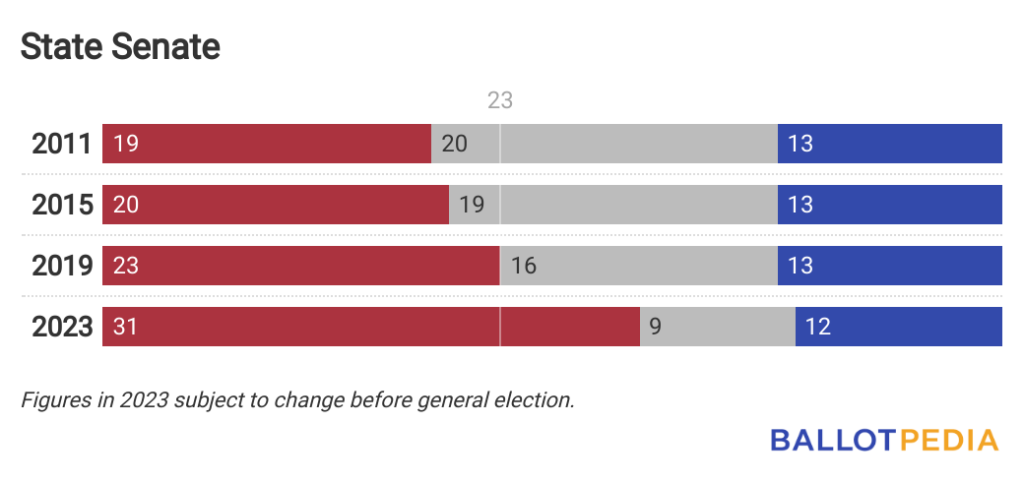 Following Reconstruction, Democrats controlled the Mississippi Legislature consistently from 1876 until 2007, when Republicans briefly controlled the Senate.
Republicans won control of both chambers in 2011, and since then, the number of races contested by both major parties has gradually decreased.
For Democrats, the number of seats without Republican opponents has remained somewhat constant since 2011, ranging from a high of 55 seats in 2019 to a low of 47 this year.
For Republicans, the number of seats without Democratic opponents has consistently increased, growing from 55 in 2011 to 98 this year.
Additionally, in 2023, there is one seat—House District 96—where neither major party fielded candidates, guaranteeing the seat to Rep. Angela Cockerham (I).
These figures are subject to change ahead of the general election due to candidate withdrawals and replacements.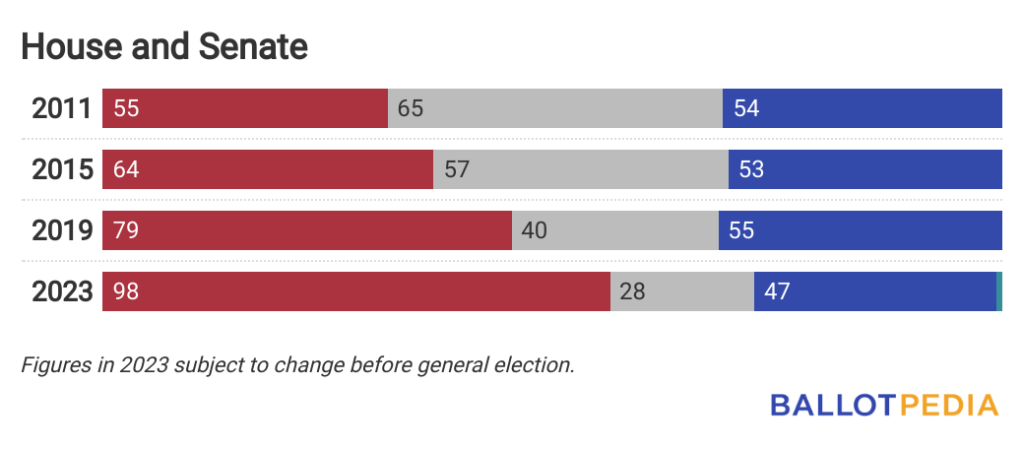 This trend towards an increased number of uncontested Republicans mirrors that of filed candidates, in general.
Since 2011, the number of Republicans running for state legislative offices has increased from 172 to 183 in 2019 and this year.
The number of Democrats running has decreased from 168 to 105 this year.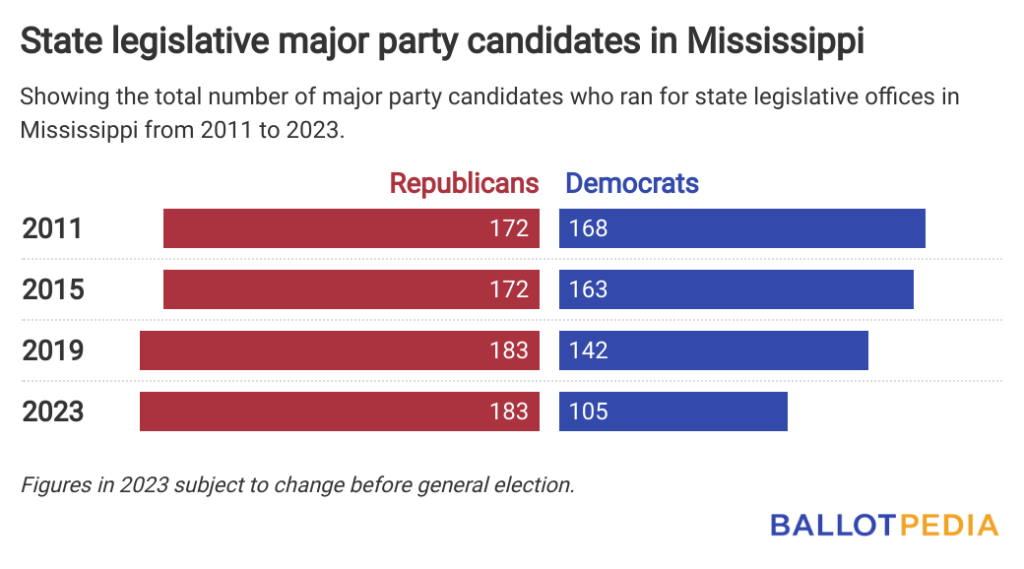 This decrease in the number of Democratic candidates has resulted in a decade-low number of contested primaries. In Mississippi, a primary is contested if more than one candidate from the same party file to run for the same seat.
In 2019, there were 31 contested Democratic primaries, compared to 22 this year, a 29% decrease.
For Republicans, contested primaries increased from 41 in 2019 to 45 this year, a 10% increase.
Overall, the total number of contested primaries this year (67) represents 19% of all possible primaries, a decade-low percentage.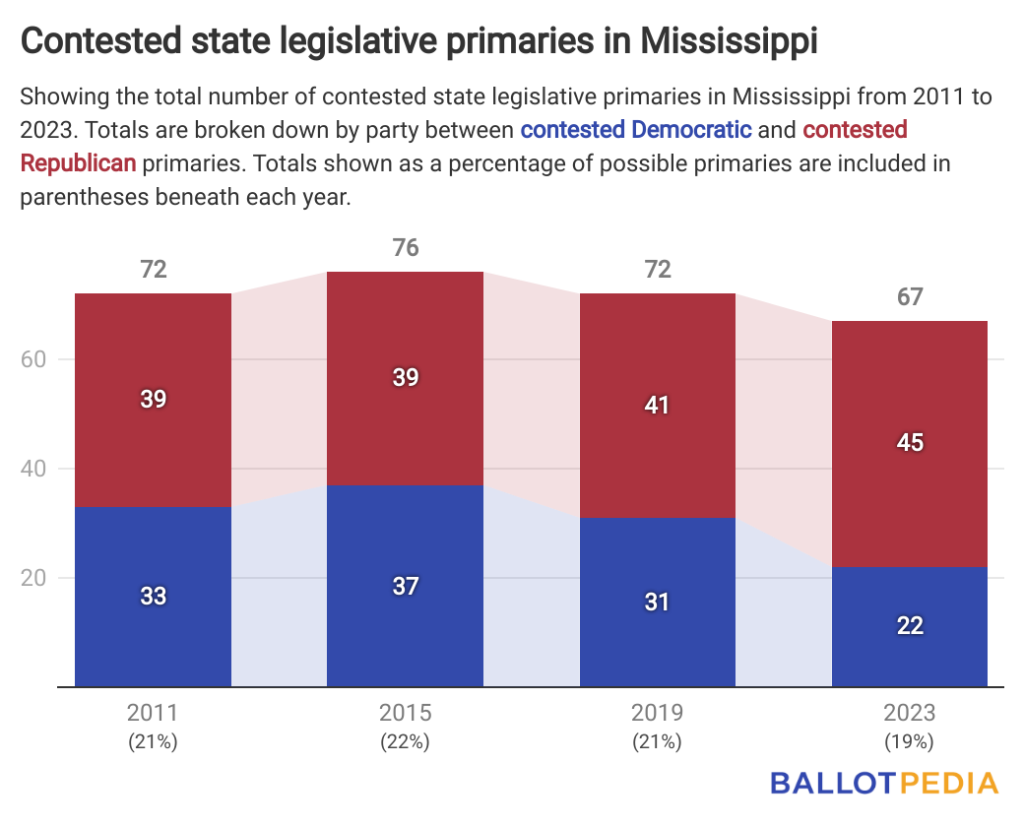 Twenty seats are open, meaning no incumbents filed to run, a decade-low number, representing 11% of the 174 seats up for election across both chambers. Newcomers are guaranteed to win open seats.
Mississippi has had a Republican trifecta since the party won control of the House in 2011. Republicans currently hold a 77-42-3 majority in the House and a 36-16 majority in the Senate.
Mississippi's state legislative primaries are scheduled for Aug. 8. A candidate must receive at least 50% of the vote to win the primary, otherwise the top-two vote-getters advance to a runoff on Aug. 29.
Additional reading: