Welcome to the Tuesday, March 14, Brew.
Here's what's in store for you as you start your day:
A look at this year's early voting periods
Four incumbents defeated in primaries for St. Louis' downsized Board of Aldermen
On the Ballot talks Chicago with Politico's Shia Kapos
---
A look at this year's early voting periods
Eight states—Kentucky, Louisiana, Mississippi, New Jersey, Pennsylvania, Virginia, Wisconsin, and Washington—are holding statewide elections this year.
Today, let's look at when early voting begins in those states.
When we talk about early voting, we usually refer to no-excuse early voting, meaning any voter—during a specific period—can cast a ballot before Election Day. Unlike absentee/mail-in voting, no-excuse early voting is typically done in person, though we count states where voters can cast absentee ballots in person without an excuse.
Nationwide, 46 states permit some form of no-excuse early voting. This includes the eight states—like Washington—where elections are conducted entirely by mail. Early voting typically involves receiving a ballot in the mail and dropping it off in person in those states.
This list has grown since the coronavirus pandemic, before which 44 states allowed no-excuse early voting. Virginia instituted the process in 2020, and Delaware is the most recent adopter, with last year's elections its first to include no-excuse early voting.
Of the eight states holding statewide elections this year, all but Mississippi allow no-excuse early voting in some form. Mississippi does allow voters to cast absentee/mail-in ballots early, but only under certain circumstances.
Virginia has the longest statutory period this year at 44 days. But some voters in Pennsylvania might have a similar or longer early voting period.
Pennsylvania doesn't have a statewide, statutory early voting period. Instead, each county sets its own rules, and voters should check their county's website for specifics. But early voting is usually available for four to six weeks, typically starting once ballots are finalized and available.
Kentucky's early voting period lasts three days for its primary and general elections. New Jersey also has a three-day window, but for the primary only. Voters there have nine days of early voting before the general election.
The table below shows each state and its various early voting start and end dates. While Mississippi does not allow no-excuse early voting, its election dates—including its primary and general runoffs—are included here along with early voting dates for voters who qualify.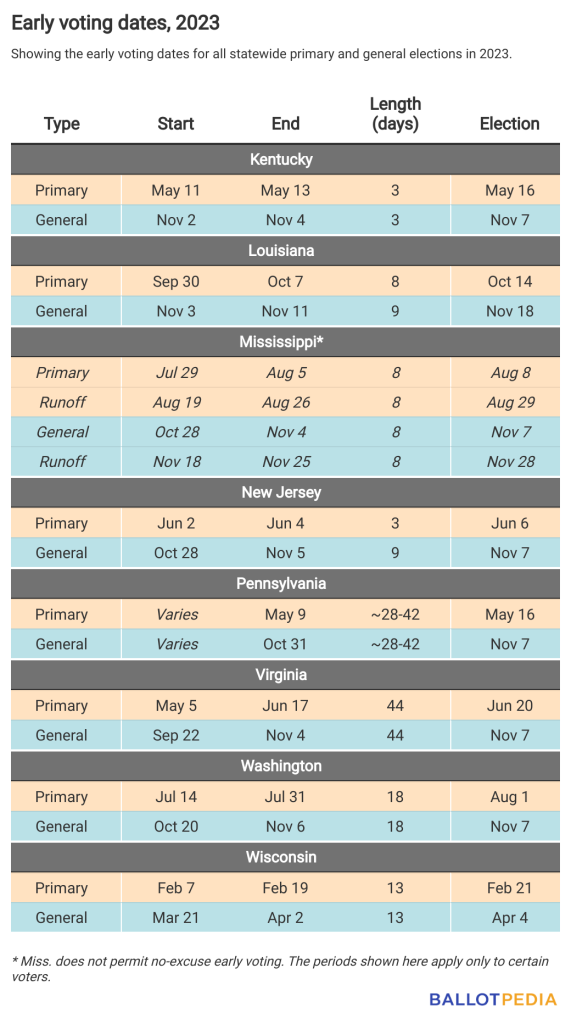 ---
Four incumbents defeated in primaries for St. Louis' downsized Board of Aldermen
St. Louis held nonpartisan primaries for its Board of Alderman on March 7. All 14 seats and the board president were up for election.
These primaries were the first to take place under a new ward system that reduced the number of seats on the board from 28 to 14. This change was a decade in the making. Voters approved a charter amendment in 2012 requiring the size reduction, and in 2021, the board enacted a new 14-ward map.
Board members typically serve staggered four-year terms, but because of the charter change, every member had to stand for re-election this year. Winners in odd-numbered wards will serve initial two-year terms. Those in even-numbered wards and the board president will serve a regular four-year term.
Eighteen incumbents, including the board president, ran for re-election. Fourteen advanced to the April 4 general election, and four lost in the primaries.
At least one incumbent was guaranteed to lose: in Ward 13, all three candidates—Pamela Boyd, Lisa Middlebrook, and Norma Walker—were incumbents, but only two could advance. Boyd and Walker advanced, defeating Middlebrook.
Incumbents Brandon Frazier Bosley and James Page lost to two challengers—Rasheen Aldridge and Ebony Washington—in Ward 14. Board President Megan Green endorsed Aldridge, a state representative. The St. Louis Post-Dispatch's Austin Huguelet wrote, "[Green] sees … as the most reliably progressive vote in the race."
The closest race was Ward 9, where incumbents Michael Gras and Tina Pihl faced challenger Michael Browning. Browning placed first, but initial vote totals showed Gras and Pihl tied in second place with 868 votes each. Pihl ultimately defeated Gras by eight votes after officials counted provisional ballots.
In 2020, voters approved Proposition D, ending the city's partisan primaries and adopting a nonpartisan approval voting system. Under this system, candidates appear on the same primary ballot without party labels. Voters can select as many candidates as they want, and the top-two vote-getters advance to the general election.
Looking ahead to the April 4 general election, Wards 4 and 13 both feature incumbent v. incumbent races, meaning at least two more incumbents are guaranteed to lose.
---
On the Ballot talks Chicago with Politico's Shia Kapos
On the Ballot, our weekly podcast, takes a closer look at the week's top political stories.
In our most recent episode, host Victoria Rose unpacks Chicago's mayoral election with Shia Kapos, the author of Politico's Illinois Playbook. Their conversation touches on the lay of the land heading into the Feb. 28 general election and where things stand now.
Later, staff writer—and Chicago resident!—Joel Williams joins the show to dig into the details from margins to endorsements to recent polling ahead of the April 4 runoff between Paul Valas and Brandon Johnson.
Episodes of On the Ballot come out Thursday afternoons, so if you're reading this on the morning of March 14, you've still got time to subscribe on your favorite podcast app before this week's episode drops!
Click the link below to catch the latest episode and learn how to subscribe: