As of March 15, 2024, five noteworthy candidates are running in the 2024 presidential election, including one Democrat and four Republicans.
Below is a summary of each candidate's campaign activity from March 8 to March 15.
Author and 2020 presidential candidate Marianne Williamson (D) held campaign events across New Hampshire from March 8 to March 13.
Former U.N. Ambassador Nikki Haley (R) campaigned in Iowa from March 8 to March 10 and held a rally in Myrtle Beach, South Carolina, on March 13. During a townhall in Council Bluffs, Iowa, on March 8, Haley announced she was in favor of raising the retirement age for younger Americans.
Entrepreneur and author Vivek Ramaswamy (R) campaigned in Cincinnati, Ohio on March 11. He also published several op-eds. On March 8, he wrote an op-ed for the Daily Mail, and on March 12, wrote an op-ed for the Wall Street Journal, titled "SVB Doesn't Deserve a Taxpayer Bailout."
Former President Donald Trump (R) held a campaign event in Davenport, Iowa, on March 13, marking his first official campaign visit to the state this cycle. He spoke about education policy, saying he supported universal school choice, electing school principals, and eliminating the U.S. Department of Education. 
Former Montana Secretary of State Corey Stapleton (R) announced he would be campaigning in New Hampshire on March 15.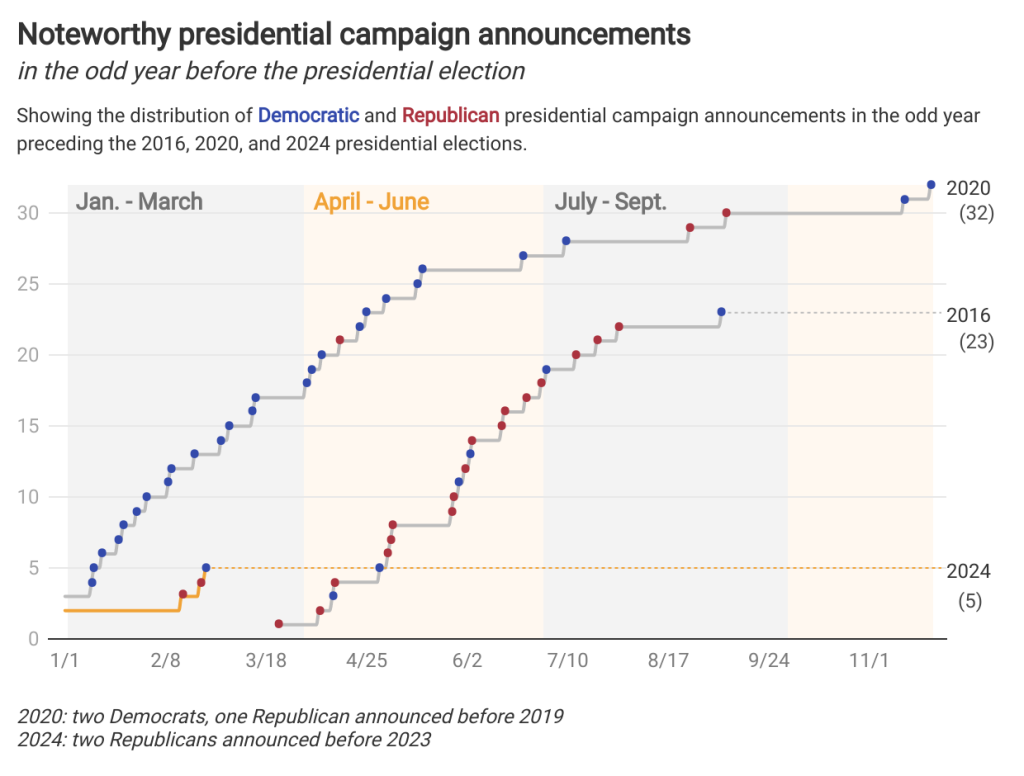 At this point in the 2020 cycle, 17 noteworthy candidates were running for president. Sixteen were seeking the Democratic nomination, and one (Trump) was seeking the Republican nomination.
Notable stories at the time included Beto O'Rourke's (D) campaign announcement, Andrew Yang (D) reaching the donor threshold to participate in the Democratic primary debates, and the Democratic National Committee's selection of Milwaukee to host the 2020 Democratic National Convention. The 2024 Republican National Convention will be held in Milwaukee, along with the first Republican presidential primary debate.
In the 2016 election cycle, no noteworthy candidates were running for president as of March 15, 2015. Senator Ted Cruz (R-Texas) was the first noteworthy candidate to announce his campaign on March 23 of that year. At this point in the 2016 cycle, candidates who would eventually declare were preparing to do so. Sen. Rand Paul (R-Ky.) hired new staff in preparation for a run, and Sen. Bernie Sanders (I-Vt.) discussed fundraising with The Washington Post. Discussion of Hillary Clinton's (D) private email server was in the news as well, with The Washinton Post reporting on 2020 Republican presidential candidate Jeb Bush's use of a private email server while in office as governor of Florida.
Additional reading: