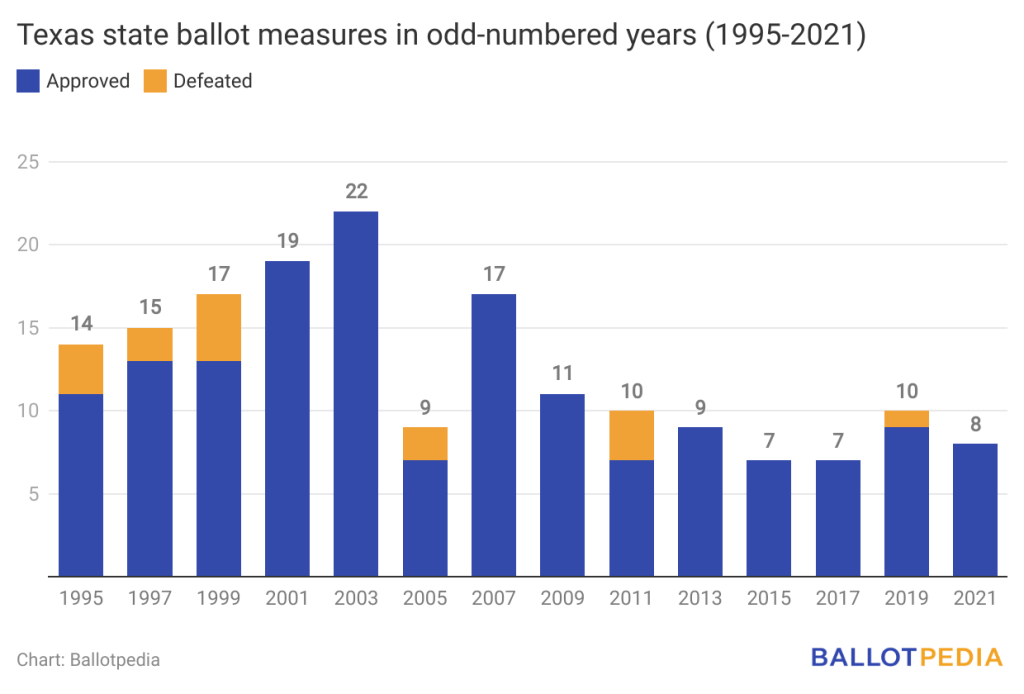 The Texas State Legislature proposed 295 constitutional amendments during the 2023 legislative session, an increase over previous odd-year regular sessions where legislators proposed 218 amendments in 2021 and 216 amendments in 2019.
Texas is one of a handful of states that frequently vote on constitutional amendments in odd-numbered years. Fourteen of the 295 proposed amendments have passed one chamber as of April 14, and would appear on the 2023 ballot if passed in the second chamber. The state legislature is set to adjourn May 29.
Between 2009 and 2021, an average of 196 constitutional amendments were filed during regular legislative sessions. The state legislature approved an average of nine constitutional amendments each session, meaning the average chance of a proposed constitutional amendment appearing on the ballot was 4.7%
In 2023, members of the Senate introduced 91 of the amendments (31%), and members of the House introduced 204 amendments (69%). Republican legislators filed 182 amendments (61%), and Democrats filed 113 amendments (39%).
In 2023, Republicans control both chambers of the state legislature, as well as the governor's office, making Texas a Republican trifecta. At the general election on November 8, 2022, Republicans retained control of the House and Senate, increased their 86-64 majority in the House, and gained one seat in the Senate. The new majority in the Senate following the election was 19-12.
Changes in the state have impacted the prospects of constitutional amendments making the ballot. Republicans held 21 seats in the state Senate in 2018, which was enough to pass a constitutional amendment without support from Democrats. In 2023, Republicans held 19 seats, meaning at least two Democrats were needed to pass a constitutional amendment in the state Senate. In 2022, the last election in Texas featuring constitutional amendments, both amendments received unanimous support from voting Senate Democrats.
Between 1995 and 2021, Texans decided on 175 statewide ballot measures appearing on odd-numbered year ballots. Voters approved 160 measures and defeated 15.