Welcome to the Tuesday, April 18, Brew.
By: Samuel Wonacott and Douglas Kronaizl
Here's what's in store for you as you start your day:
North Dakota voters to decide changes to ballot measure process in 2024
Delaware approves amendment updating state legislative residency requirements
33 candidates filed for federal and statewide offices last week
---
North Dakota voters to decide changes to ballot measure process in 2024
The North Dakota Legislature has put a constitutional amendment on the 2024 ballot that could make it more challenging for citizen initiatives to qualify for the ballot and require voters to approve such measures twice.
The changes would not apply to amendments the legislature puts on the ballot.
Key changes proposed in the amendment include:
Establishing a single-subject rule for statutory and constitutional initiatives.
North Dakota is one of 17 states with a single-subject rule for statewide citizen initiatives. Overall, 26 states provide for at least one type of statewide citizen initiative. The single-subject rules require initiatives to address a single subject, topic, or issue. This amendment leaves it to the secretary of state to determine what constitutes a single subject.
Increasing the signature requirement for constitutional amendment initiatives from 4% to 5% of state residents.
Currently, initiated constitutional amendments require 31,164 valid signatures to appear on the ballot. This proposal would increase the signature requirement to 38,955.
The signature requirement is tied to the most recent census data and remains unchanged until the next census.
Requiring constitutional amendment initiatives be approved in both a primary and general election to become effective.
Eighteen states allow initiated constitutional amendments. Nevada is the only one where these initiatives must be approved in two separate general elections two years apart.
North Dakota's proposal—approving amendments in the primary and then the general election—would result in a smaller percentage of voters participating in that first round of voting.
Since 2010, the number of votes cast in North Dakota's general elections has been 136% greater than the number cast in primaries, on average.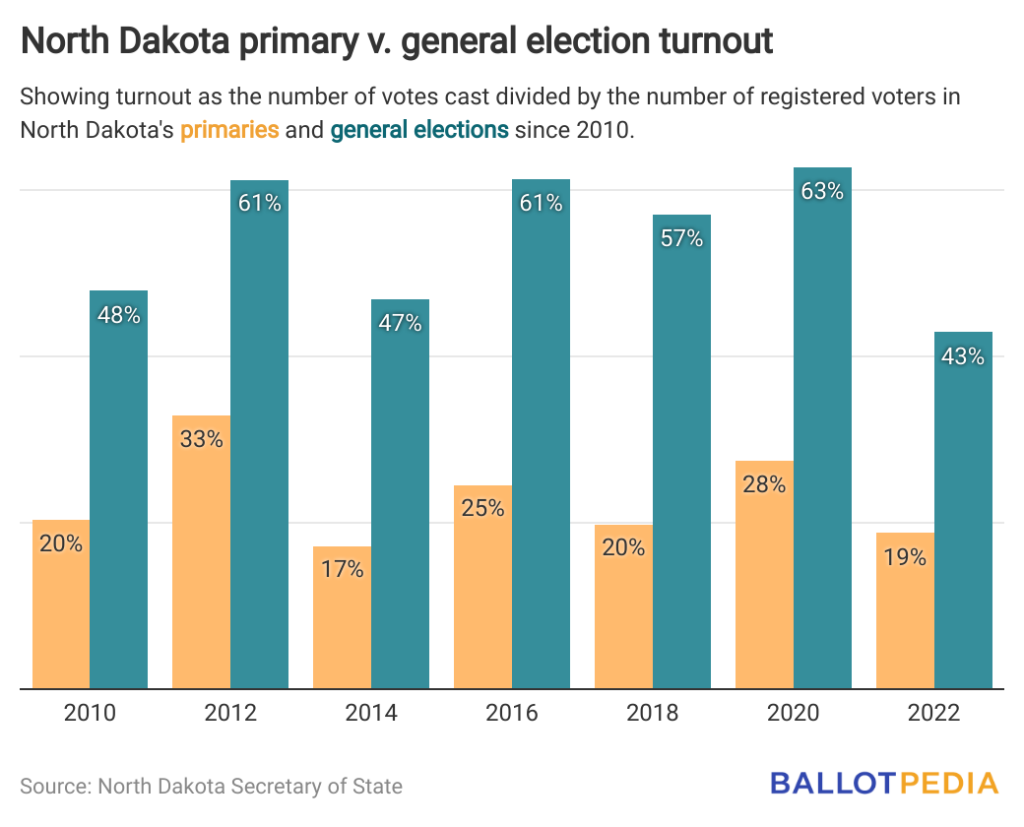 From 1996 to 2022, the North Dakota Legislature referred 37 constitutional amendments to the ballot. Voters approved 24 (69%) and rejected 13 (35%).
This proposal continues a trend we noticed in 2022 of legislatures referring amendments to the ballot that would change the initiative process. Voters in four states decided six such measures, three of which were approved and three rejected.
Those proposals include the creation of a single-subject requirement in Arizona, which voters approved with 55% of the vote.
They also include proposals in Arkansas and South Dakota to increase the number of votes needed to pass certain initiatives, both of which were rejected with 59% and 67% of the vote, respectively.
---
Delaware amends constitution to update state legislative residency requirements
Considering a run for the Delaware General Assembly? You'll need to live in the district you want to represent continuously while in office.
That's the major change in a constitutional amendment legislators there approved earlier this month.
Article II, Section 3 of the Delaware Constitution currently requires that legislators must have lived in the district they are representing for at least a year before their election, but does not require they live there after being elected.
Delaware is the only state in the country where amending the constitution does not require voter approval.
Under House Bill 77 (HB 77)—the recently approved amendment—if a lawmaker moves out of the district they represent, it will be treated as if they resigned from office.
There are a few conditions to this requirement. It won't apply immediately after redistricting, when legislative lines are redrawn and legislators often find themselves living in new districts than the ones they currently represent. It also won't apply if a legislator needs to relocate due to some outside circumstance, like a natural disaster.
In Delaware, constitutional amendments require a two-thirds majority in each chamber to pass. The House voted 39-0 in favor on March 16, and the Senate voted 20-0 in favor on April 6.
Every state but South Dakota requires that state legislative candidates live in the districts they are running to represent.
In 13 states and the Massachusetts Senate, residency is required, but without a specific length of time.
District residency is required for less than a year in 13 states. In 26 states and the Massachusetts House, it's required for one year. In Illinois and Mississippi, candidates must live in the district for two years to be eligible.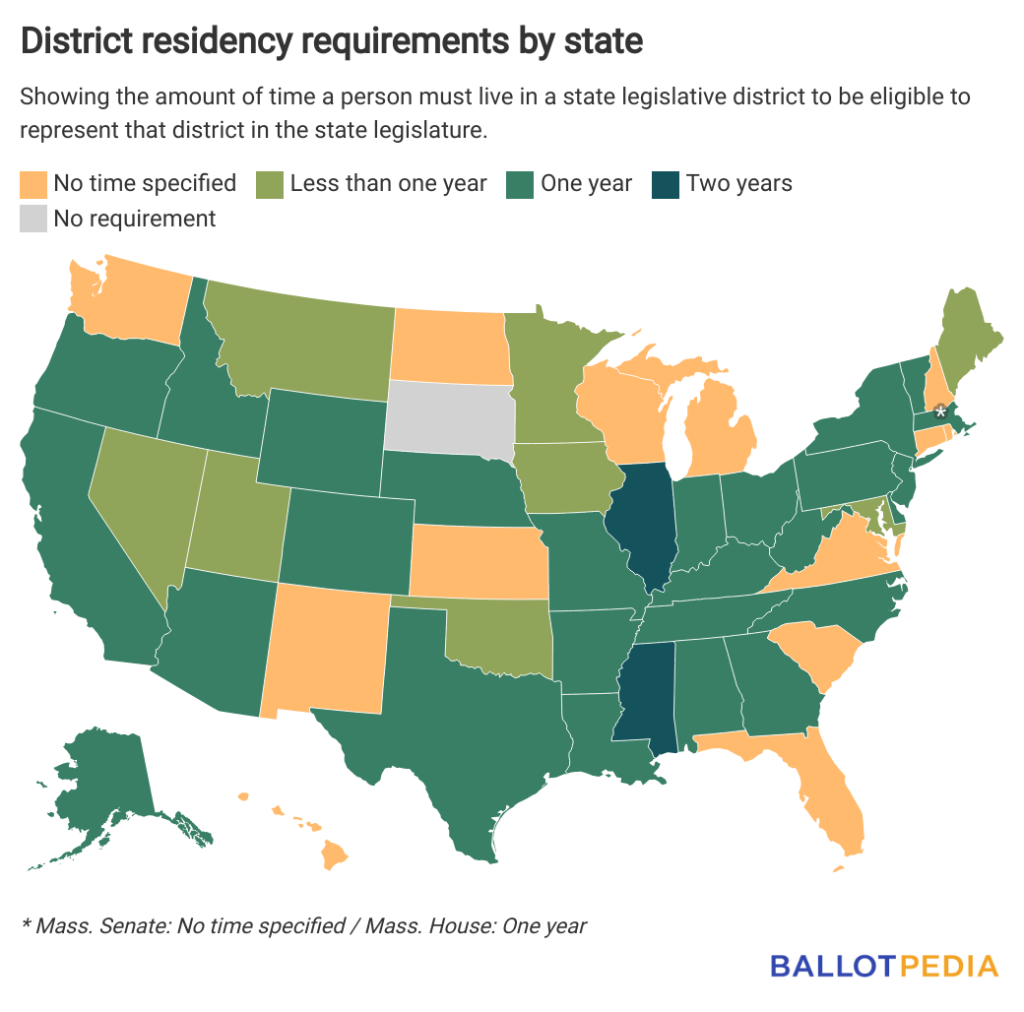 ---
33 candidates filed for federal and statewide offices last week
We cover elections for tens of thousands of offices across the country, and part of that work includes keeping tabs on the candidates who file to run for those offices. We'll periodically bring you updates on how many candidates are signing up to run for state and federal offices. We process both official and declared candidates.
Last week, 33 candidates filed to run for congressional and state offices—including for elections in 2023, 2024, 2024, and 2026. Two weeks ago, we tracked 27 candidates who declared for congressional and state offices.
This year, we've tracked 502 candidates who've filed to run for congressional and state offices this year and in future election cycles. At this time in 2021, we had processed 519 candidates for elections in 2021, 2022, and 2023.
Here's a breakdown of the candidates who declared last week:
Of the partisan nature of the declared candidates….

13 are Democrats
19 are Republicans.
One is a minor-party candidate.

Of the offices tracked…

24 filed for Congress
Seven filed for state legislatures
Two filed for governor
Click below to read about our definition of candidacy.