Over the past month, three elected officials were expelled from state legislatures: Reps. Liz Harris (R-Ariz.), Justin Jones (D-Tenn.), and Justin Pearson (D-Tenn.).
Local officials later re-appointed Jones and Pearson to their seats. For Harris, local Republican committee members gave the Maricopa County Board of Supervisors three names—including Harris'—to choose from on April 18.
In order to determine how often lawmakers are expelled, we have been digging into the historical data.
Including the three recent expulsions in Arizona and Tennessee, we have found 27 cases of elected officials expelled from state legislatures since 2000. For 19, the chambers voted to expel them, and eight were removed automatically following criminal convictions under state law.
Of those 27, 21 expelled legislators were members of their chamber's majority party, and six were minority party members, as shown below: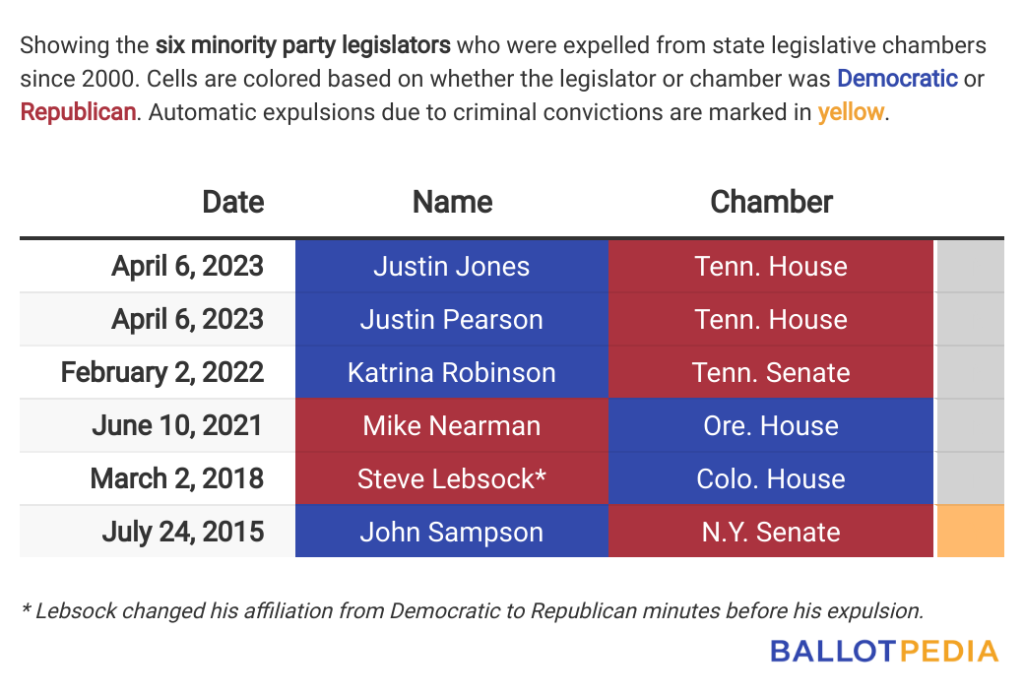 Looking further back, we have found 61 expulsions, in total, between 1837 and 2023. This includes 35 Democrats, 20 Republicans, and six members of the Socialist Party.
Some noteworthy cases include:
John Wilson (D), former speaker of the Arkansas House, was expelled in 1837 after killing a colleague during a knife fight on the chamber floor.
New York Assemblymen August Claessens, Louis Waldman, Charles Solomon, Samuel Orr, and Samuel DeWitt, all members of the Socialist Party, were expelled in 1920 for alleged disloyalty to the United States. All five were re-elected in special elections, after which the Assembly expelled Claessens, Solomon, and Waldman again.
Sheldon Silver (D), former speaker of the New York Assembly, was automatically expelled in 2015 after being convicted of federal corruption charges.
Larry Householder (R), former speaker of the Ohio House, was expelled in 2021 after being charged with conspiracy to participate in a racketeering scheme.