Welcome to Ballotpedia's Donor Privacy and Disclosure Digest! This monthly newsletter provides news and information on key policy changes, a breakdown of state legislation, and an overview of pivotal legal decisions and case developments. In this issue, you'll find:
Indiana Legislature passes privacy bill: HB1212 would prevent governments from acquiring or disclosing donor's personal information.
In the courts: The latest on pivotal judicial decisions and developments across the country.
State by state: An analysis of this month's state legislative activity, including bill status, topic, partisan sponsorship, and more.
What we're reading: Keep up to date on the stories and analyses we've been reading this month.
Dig deeper: Want more information on the topics covered in this issue? We've got you covered.
Indiana Legislature passes privacy bill
On April 25, the Indiana General Assembly passed HB1212, a bill prohibiting state and local governments from requesting or disclosing nonprofit donors' personal information. The bill defines personal information as data that identifies a person as a supporter or member of a nonprofit organization. It would prohibit government agencies from requiring individuals, contractors, or grantees to disclose this information, and it would penalize violators of these provisions with a fine of no less than $2,500 per violation.
State Rep. Michael Karickhoff (R) and co-author Rep. Elizabeth Rowray (R) introduced HB1212 on Jan. 10. State Sens. Liz Brown (R), Eric Koch (R), and James Buck (R) also sponsored the bill. The bill passed the Indiana House of Representatives 77-21 on Jan. 31. Ten House Democrats and 67 Republicans voted for the bill, while 20 Democrats and one Republican voted against it. The state Senate passed an amended version of the bill 48-1 on March 28, with eight Democrats and 40 Republicans voting in favor and one Democrat voting no.
The House did not accept the proposed Senate amendments, and a conference committee took up consideration of the bill on April 19. On April 24, the House voted 74-20 for an amended version of the bill, with 11 Democrats and 63 Republicans voting in favor. Eighteen Democrats and two Republicans voted no. The Senate again voted 48-1 to pass the bill on April 25, with the same partisan breakdown of votes as it had on initial passage.
Supporters of HB1212 said donor privacy is essential for encouraging charitable giving. Claudia Cummings, the president and CEO of the Indiana Philanthropy Alliance, said, "Speaking with our members, it's clear that donor privacy is one of the basic things that they're asked when consulting with donors." Bill sponsor Sen. Liz Brown said, "Donors get to choose how they spend their money — these are their private dollars. They can choose to save it, they can choose to buy something with it, or they can choose to give it. … If those donors were to withdraw from investment in the social sector, what impact would that have?"
Opponents of the bill say it would reduce government transparency. Aaron McKean, legal counsel for the Campaign Legal Center, said, "These kinds of bills … make it harder to get information about who is trying to influence our government officials or or our elected officials. And that's information that voters need in order to be able to assess whether the government is actually working on their behalf or if government is working on behalf of those wealthy special interests who are lining their pockets." Pete Quist, deputy research director at OpenSecrets, said, "When you choose to get involved in politics, you choose to step into the public sphere… it's the people's right, the public's right, to know who is funding their politicians. And that for us, trumps any donor privacy."
The bill now heads to Indiana Gov. Eric Holcomb (R). Indiana has a Republican trifecta, meaning the Republican Party controls the governorship and majorities in both legislative chambers. Republicans have a 70-30 majority in the House and a 40-10 majority in the Senate.
If signed into law, HB1212 would be the third donor privacy bill enacted in 2023. The other states enacting donor privacy bills this year are Kansas (HB2170) and Kentucky (SB62).
In the courts
Advocacy group asks judge to dismiss challenge to Arizona ballot measure
On April 28, attorneys for Voters' Right to Know filed a motion asking a federal judge to dismiss Americans for Prosperity's (AFP) lawsuit seeking to overturn Arizona's Proposition 211. The measure, which voters approved in 2022, requires anyone who makes an independent expenditure of more than $50,000 on a statewide campaign or $25,000 on a local campaign to disclose the names of the money's original sources. Voters' Right To Know led the campaign in support of Proposition 211 and describes itself as "a nonpartisan effort to promote the accountability of American politics." AFP, founded in 2004 by David Koch, is a 501(c)(4) political advocacy group that has described itself as "an organization of grassroots leaders who engage citizens in the name of limited government and free markets on the local, state, and federal levels." AFP sued members of the Arizona Citizens Clean Elections Commission and Secretary of State Adrian Fontes (D) on March 17 in the United States District Court for the District of Arizona. AFP alleged that Proposition 211 is unconstitutional and that donors should be allowed to make anonymous contributions. In the latest filing, Voters' Right to Know attorney David Kolker said, "The right to free speech was designed to enable self-government, ensure responsive officeholders, and prevent the corruption of the democratic process. Properly understood, disclosure laws like the Voters' Right to Know Act enhance, rather than constrain, the free speech necessary to sustain our democracy." In the original lawsuit, attorneys for AFP said, "This assurance of confidentiality is vitally important and enables plaintiffs' continued robust participation in the public sphere — whereas Proposition 211's compelled disclosures vitiate this understanding and threaten to chill continued donations and support for plaintiffs."
Philadelphia Board of Ethics sues super PAC and affiliated nonprofit
On April 24, Judge Joshua Roberts (D) issued a second ruling in the Philadelphia Board of Ethics' lawsuit against the political action committee For a Better Philadelphia. In the new ruling, Roberts prohibited the PAC from making expenditures in the November general election. The board filed the lawsuit on April 10 against For a Better Philadelphia and its affiliated nonprofit organization, arguing that the group illegally coordinated with mayoral candidate Jeff Brown's (D) campaign by exceeding city campaign contribution limits. The board's executive director J. Shane Creamer said, "The board stands by its factual allegations presented in court and brings this case to enforce the city's contribution limits. We disagree with defendants' misinterpretation of the city's law." Brown campaign spokesperson Kyle Anderson said, "This is a disagreement on campaign finance between the lawyers. The bottom line is that Jeff is fighting for change and a new direction for Philadelphia, and that message is resonating. We have complied with the law and neither we, nor the voters, will be distracted by this nonsense." Philadelphia is holding a primary election for mayor on May 16, 2023. Out of the nine candidates running in the Democratic primary, Brown, Allan Domb, Helen Gym, Cherelle Parker, and Rebecca Rhynhart lead in fundraising and media mentions. David Oh is the only candidate who ran for the Republican nomination.
State by state
Since April 5, state legislatures have acted on 16 bills related to donor privacy and disclosure, down from the 24 bills acted on last month. These 16 bills represent 32% of the 50 bills we are tracking in 2023. Six of these bills are from states with Democratic trifectas, eight are from states with Republican trifectas, and two are from states with a divided government. In comparison, we tracked 51 bills at this point in 2022 and 40 bills at this point in 2021. Click here for a complete list of all the bills we're tracking.
4 bills were introduced (or had pre-committee action).
Democratic trifectas: 1
Republican trifectas: 1
Divided governments: 2
2 bills advanced from committee
4 bills passed one chamber (or had pre-adoption action in the second chamber). Those bills, with their official titles, are listed below.
Democratic trifectas: 1
Republican trifectas: 2

AL HB184: Relating to charitable organizations; to amend Section 13A-9-71, Code of Alabama 1975, to prohibit the imposition of certain filing or reporting requirements on certain charitable organizations.
MO HB1064: Modifies provisions of the Personal Privacy Protection Act
NH HB195: Relative to the definition of political advocacy organization.
2 bills passed both chambers. Those bills, with their official titles, are listed below.
Republican trifectas: 1

AL SB59: Relating to disclosure of certain personal information; to prohibit public agencies from collecting, disclosing, or releasing certain personal information about members of, volunteers for, and financial and nonfinancial donors to nonprofit organizations, except as required by law; and to provide civil and criminal penalties for violation of these prohibitions; and in connection therewith would have as its purpose or effect the requirement of a new or increased expenditure of local funds within the meaning of Section 111.05 of the Constitution of Alabama of 2022.
IN HB1212: Privacy of nonprofit donor information.
2 bills were enacted. Those bills, with their official titles, are listed below.
Divided governments: 2

KS HB2170: Senate Substitute for HB 2170 by Committee on Federal and State Affairs – Creating the donor intent protection act to provide enforcement of donor-imposed restrictions on philanthropic gifts of endowment funds or to endowment funds.
VA SB1427: Campaign finance; political action committees, certain large pre-election expenditures.
The charts below show bill progress by state trifecta status and compare tracked legislation by legislative status and partisan sponsorship in 2022 and 2023.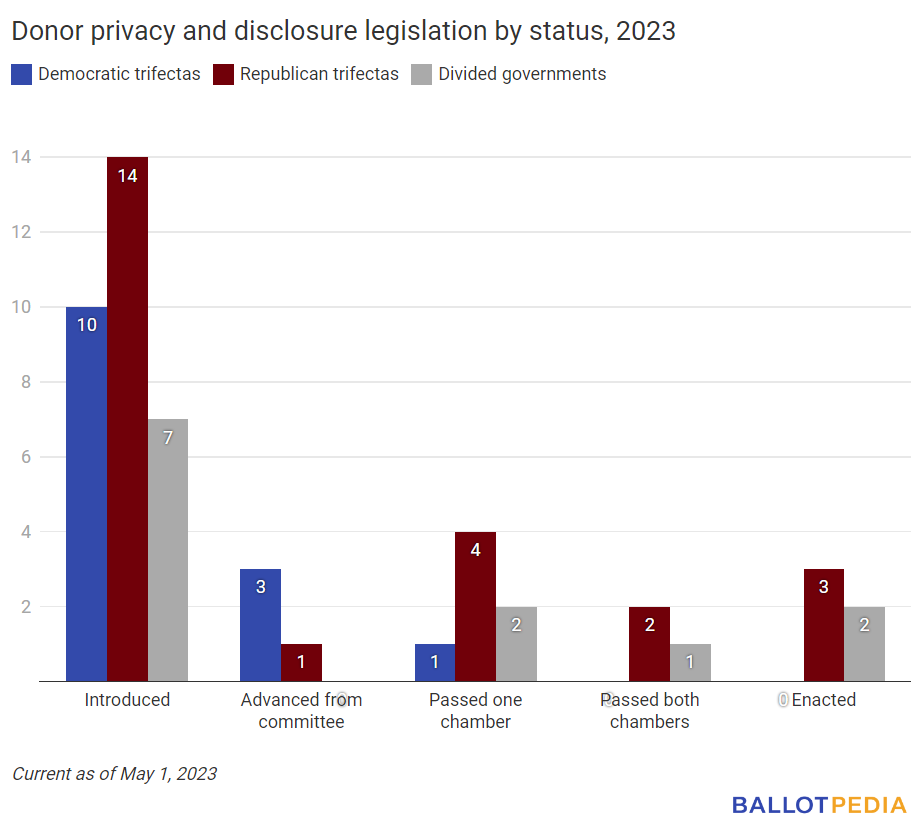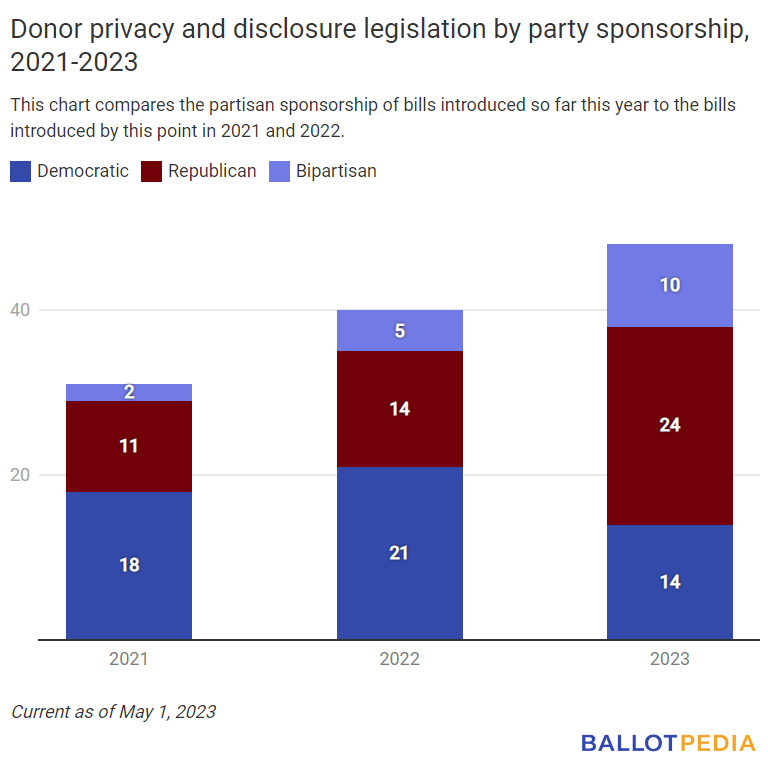 What we're reading
Keep up with the latest events in the world of donor privacy and disclosure policy by exploring the stories linked below.
Dig deeper
Are you hungry for more information on the topics we covered in this edition? Check out the following Ballotpedia pages: