President Joe Biden (D) endorsed Heather Boyd (D) in a special state legislative election in Pennsylvania on May 15, his first endorsement in the 2023 election cycle.
Boyd is running against Katie Ford (R) and Alfe Goodwin (L) to fill a vacancy left in House District 163 following state Rep. Michael Zabel's (D) resignation on May 16.
The District 163 race is one of two special elections on May 16. The other, in House District 108, is to fill the vacancy left following former Rep. Lynda Culver's (R) resignation to join the state Senate.
These special elections will determine which party controls the Pennsylvania House. If Democrats win at least one race, they will retain their majority. Republicans need to win both races to gain control of the chamber.
According to CNalysis, during the 2020 presidential election, Biden received 62% of the vote in what is now District 163. Former President Donald Trump (R) received 65% of the vote in what is now District 108.
While this is his first in 2023, Biden issued 12 endorsements in 2022, three in primaries and nine in general elections. Of his three primary endorsees, two won (67%), and of the nine general election endorsees, eight won (89%).
Biden's general election win rate of 89% in 2022 was his highest since Ballotpedia began collecting endorsement data in 2016.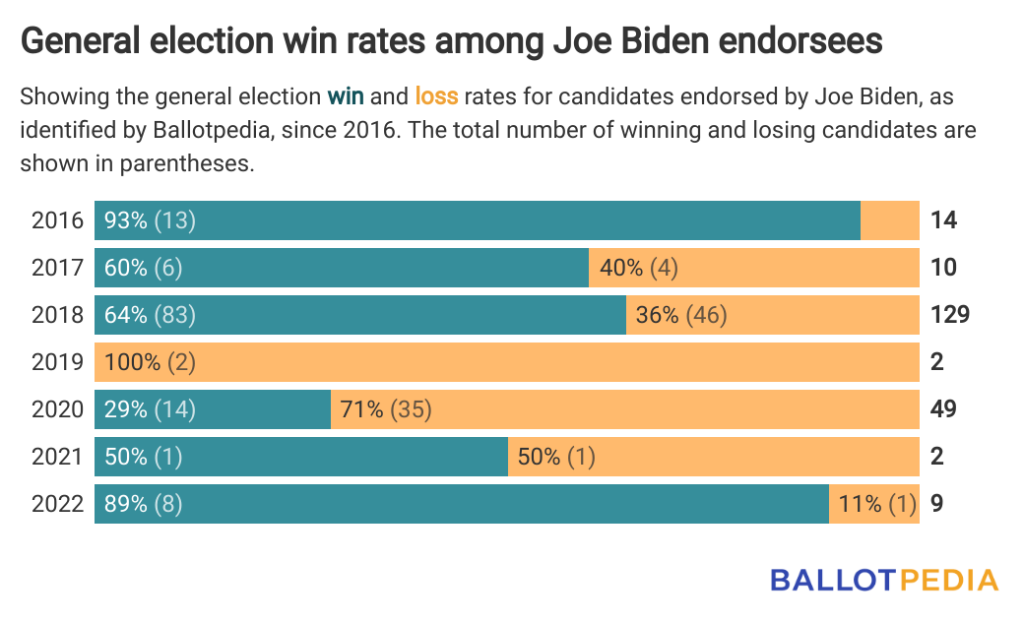 With fewer races on the ballot in odd-numbered years, Biden tends to endorse fewer candidates, making 10 endorsements in 2017 but only two in 2019 and 2021.
Biden issued his most endorsements in 2018, with 129 in that year's general elections, 83 (64%) of whom won.
Additional reading: