Democrats currently hold a 22-18 majority in the Virginia State Senate, which holds elections every four years rather than every two.
The chamber is already poised to welcome at least 11 new members next year: ten incumbents are retiring, and two incumbents are running in the same district, leaving 11 districts open, over one-fourth of the chamber.
Before control of the chamber can be decided, candidates must proceed through primaries on June 20 or, in some cases, other nominating contests like conventions.
This is the largest number of open districts in the Senate in more than a decade.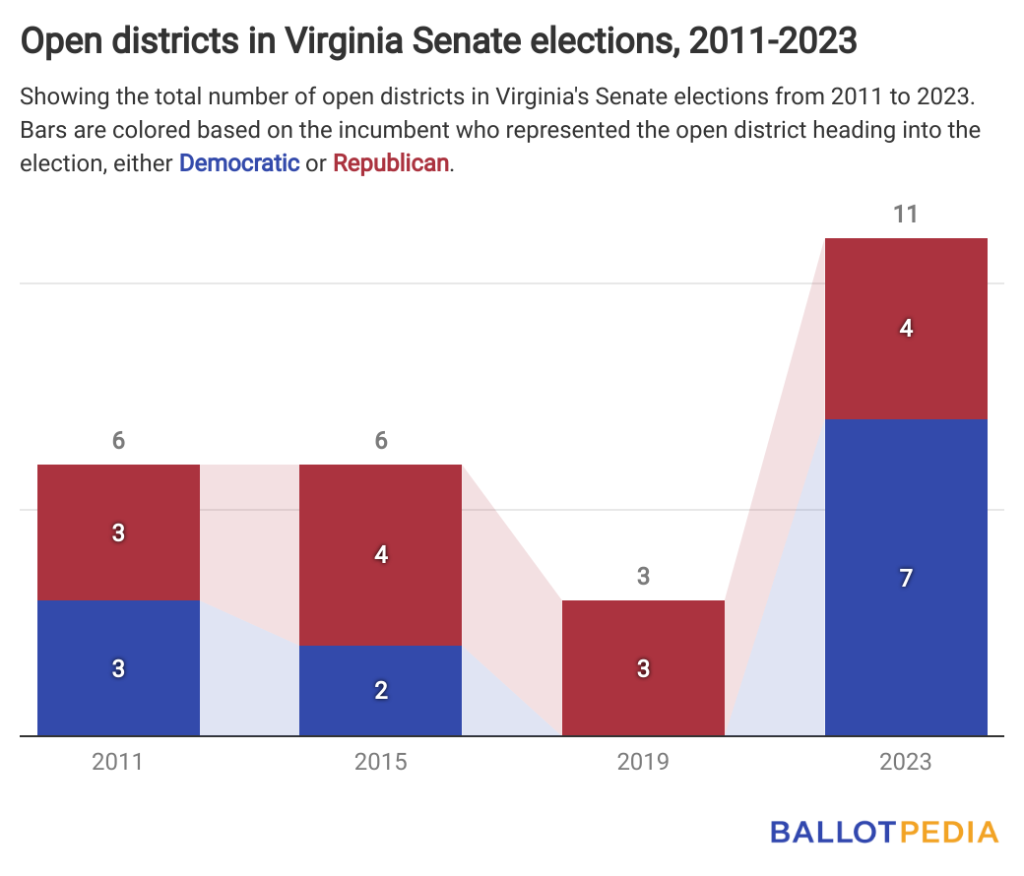 But the primaries on June 20 could further change who does—and does—not return to the Senate next year.
Of the 29 incumbents running for re-election, 11 are running in contested primaries. Similar to open seats, this is the largest number of incumbents in contested primaries, a figure that has steadily increased over the past decade.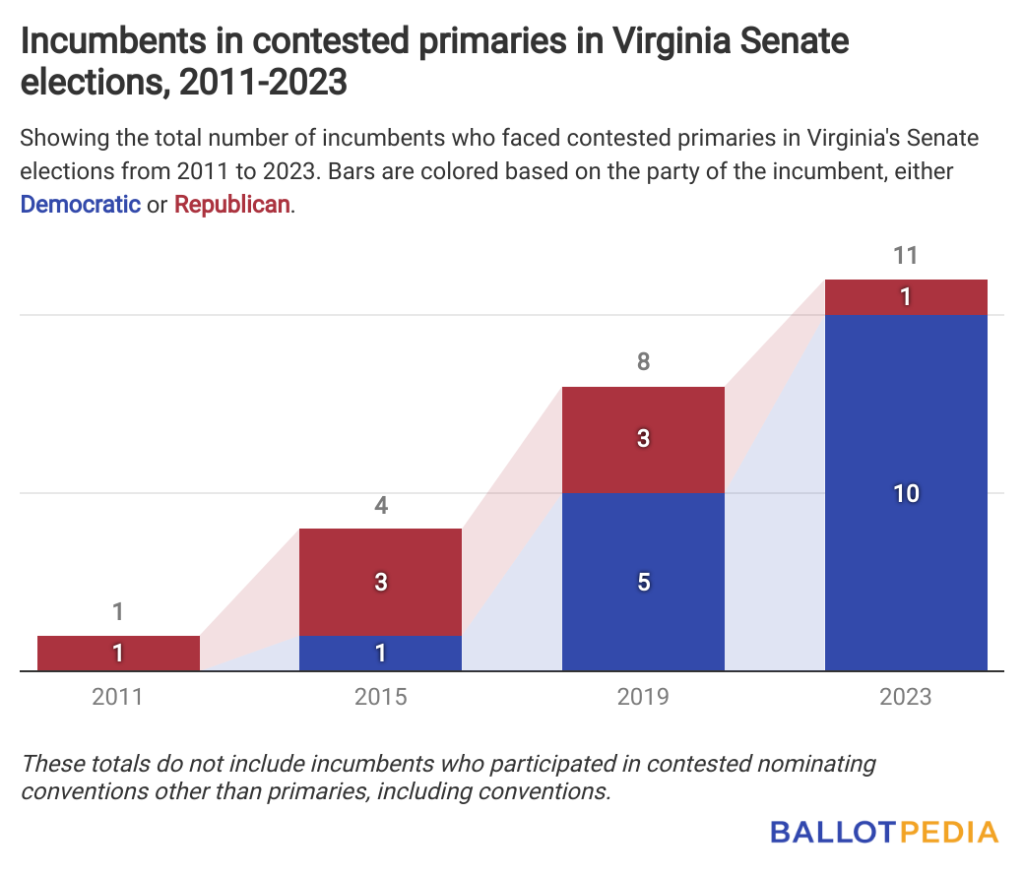 Based on media coverage and other competitiveness metrics, Ballotpedia identified eight battleground primaries in the Senate: six between Democrats and two between Republicans. Six of these battlegrounds feature incumbents, and two are in open districts.
One such primary is for Virginia Senate District 12, where incumbent Amanda Chase, Tina Ramirez, and Glen Sturtevant are running in the Republican primary.
Chase assumed office in 2016 and placed third in the Republican gubernatorial convention in 2021. The chamber censured Chase in 2021 following comments she made supporting events at the U.S. Capitol on Jan. 6. Ramirez is a nonprofit founder who placed third in the 7th Congressional District's Republican convention in 2020. Sturtevant is a former state Senator who held office from 2016 to 2020.
The Washington Post's Laura Vozzella wrote, "Chase's challengers … are trying to convince voters in a newly drawn suburban district south of Richmond that they'd cut the same staunchly conservative figure in the Capitol as the incumbent — without the drama."
Elections Daily's Joe Szymanski said the presence of two challengers, rather than one, could affect the primary's outcome, saying, "[I]t's nowhere near a certainty that [Chase] loses and with multiple opponents, it only increases the chances she survives."
CNalysis rates the district as Solid Republican and the Virginia Public Access Project (VPAP) rates it as Leans Republican.
Virginia Senate District 17:
Emily Brewer and Hermie Sadler are running in the Republican primary for Virginia Senate District 17.
Brewer is currently a member of the state House, where she assumed office in 2018. Sadler is a sports announcer and former NASCAR driver.
The nomination method in this district was subject to a lawsuit. Dawn Jones, chairman of the district's Republican Legislative Committee, initially certified the contest as a primary, with polling places open on June 20.
State election officials later changed the method to a convention, which often takes place at a single location, not necessarily on the same date as the primary.
Jones sued, alleging the State Board of Elections lacked the authority to make that change. On March 29, Richmond Circuit Court Judge Claire Cardwell ordered the board to place Brewer and Sadler's names on a primary ballot.
CNalysis and VPAP rate the district as Tilt and Leans Republican, respectively. While Youngkin won the district by a margin of 5.2 percentage points in 2021, President Joe Biden (D) won it by a margin of 7.0 percentage points in 2020.
Incumbent George Barker and Stella Pekarsky are running in the Democratic primary in Virginia Senate District 36.
Barker assumed office in 2008, which was also the last time he ran in a contested Democratic primary. Pekarsky is a member of the Fairfax County School Board representing Sully District, a post she assumed in 2020.
Szymanski wrote that, due to redistricting, the new Senate District 36 covers only 7% of Barker's old constituency, meaning 93% of voters in the district have never seen his name on the ballot.
Vozzella and Teo Armus wrote that Barker "is less widely known in the new territory" and that "Pekarsky has been running to his left and casting herself as part of a new generation of Democrats."
CNalysis rates the district as Solid Democratic and the Virginia Public Access Project (VPAP) rates it as Strong Democratic.