Three new noteworthy candidates announced 2024 presidential campaigns in the past week. Former New Jersey Gov. Chris Christie (R) officially announced his candidacy on June 6, while former Vice President Mike Pence (R) and North Dakota Gov. Doug Burgum (R) officially announced their candidacies on June 7.
There are now three noteworthy Democrats and 11 noteworthy Republicans running for president.
Below is a summary of each candidate's campaign activity from May 31 to June 7.
In addition to the events above, DeSantis, Larry Elder (R), Haley, Hutchinson, Pence, Ramaswamy, and Scott attended a Roast and Ride event organized by Sen. Joni Ernst (R) in Des Moines, Iowa, on June 3.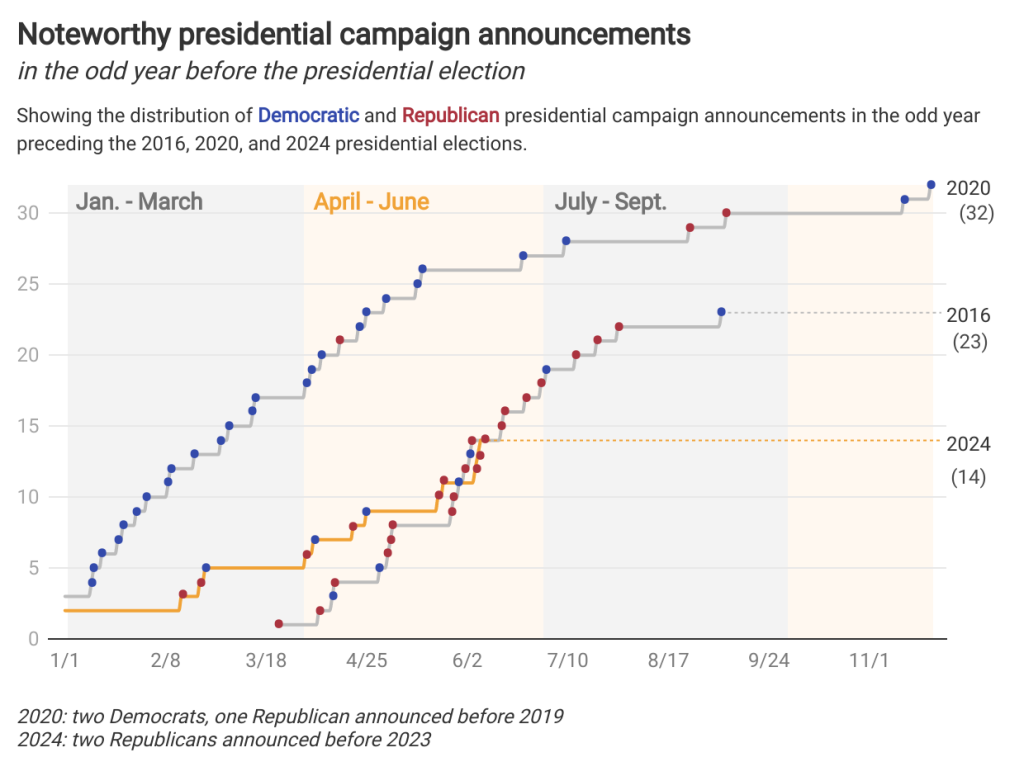 At this point in the 2020 cycle, 26 noteworthy candidates were running for president. Twenty-four were seeking the Democratic nomination, and two (Trump and former Massachusetts Governor Bill Weld) were seeking the Republican nomination.
Notable stories at the time included fourteen Democrats speaking at the California Democratic Party state convention between May 31 and June 2, and former Maryland Gov. Larry Hogan (R) announcing he would not run for president on June 1.
In the 2016 election, 14 noteworthy candidates had announced their campaigns as of June 7, 2015. There were four Democrats and 10 Republicans.
Additional reading: