The Louisiana State Legislature concluded its legislative session for 2023 on June 8. During this session, a total of seven constitutional amendments were passed, adding to the existing one that was referred to the 2023 ballot in the legislature's 2022 session. Altogether, there will be eight amendments on the statewide ballot for 2023.
Four amendments will be on the Oct. 14 ballot and four will be on the Nov. 18 ballot.
On Oct. 14, voters will decide the following constitutional amendments:
On Nov. 18, voters will decide the following constitutional amendments:
Louisiana has a divided government in which the governor is a Democrat, while the Republican Party holds majorities in both chambers of the state legislature.
In Louisiana, a two-thirds vote is required in each chamber of the Louisiana State Legislature to refer a legislatively proposed constitutional amendment to the ballot for voter consideration. The governor's signature is not required.
From 1999 to 2021, a total of 56 constitutional amendments appeared on the statewide ballot in Louisiana during odd-numbered years. Of these, 37 (67.27%) were approved, and 19 (34.54%) were defeated. On average, approximately five constitutional amendments were on the statewide ballot during odd years in Louisiana.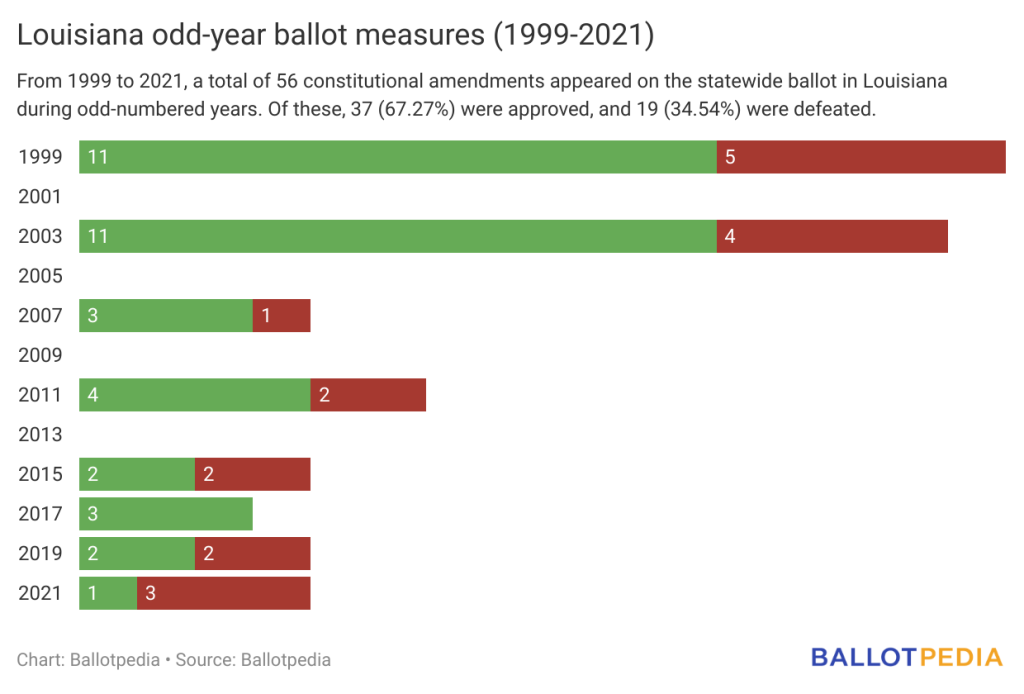 Louisiana is one of few states that frequently feature odd-year ballot measures along with Colorado, Maine, New Jersey, New York, Ohio, Texas, Washington, and Wisconsin. As of June 9, 2023, 31 statewide ballot measures were certified for the ballot in eight states for elections in 2023. From 2011 to 2021, the average number of statewide ballot measures in an odd-numbered year was 33.