As of June 15, legislators across the country have enacted 208 election-related bills this year, 42 more than the 166 bills states had enacted at this point in 2022.
Texas has enacted the most bills this year, with 20, surpassing Tennessee, which has enacted 17. In 2022, Tennessee enacted the most bills at this point (16).
Texas legislators have also introduced the most election-related bills this year (394). Texas holds legislative sessions in odd years only, and so had no activity in 2022. New York was the most active state at this point in 2022, with 417 bills introduced.
Of this year's 208 enacted bills, Republicans sponsored 127, or 61%, up from 51% of the total enacted at this point last year. Democrats sponsored 18%, down from 23% in 2022. Bills with bipartisan sponsorship make up 13% of the total enacted, down from 18% last year. Those with unclear partisan sponsorship are up to 9% from 8% in 2022. To see all bills approved this year, click here.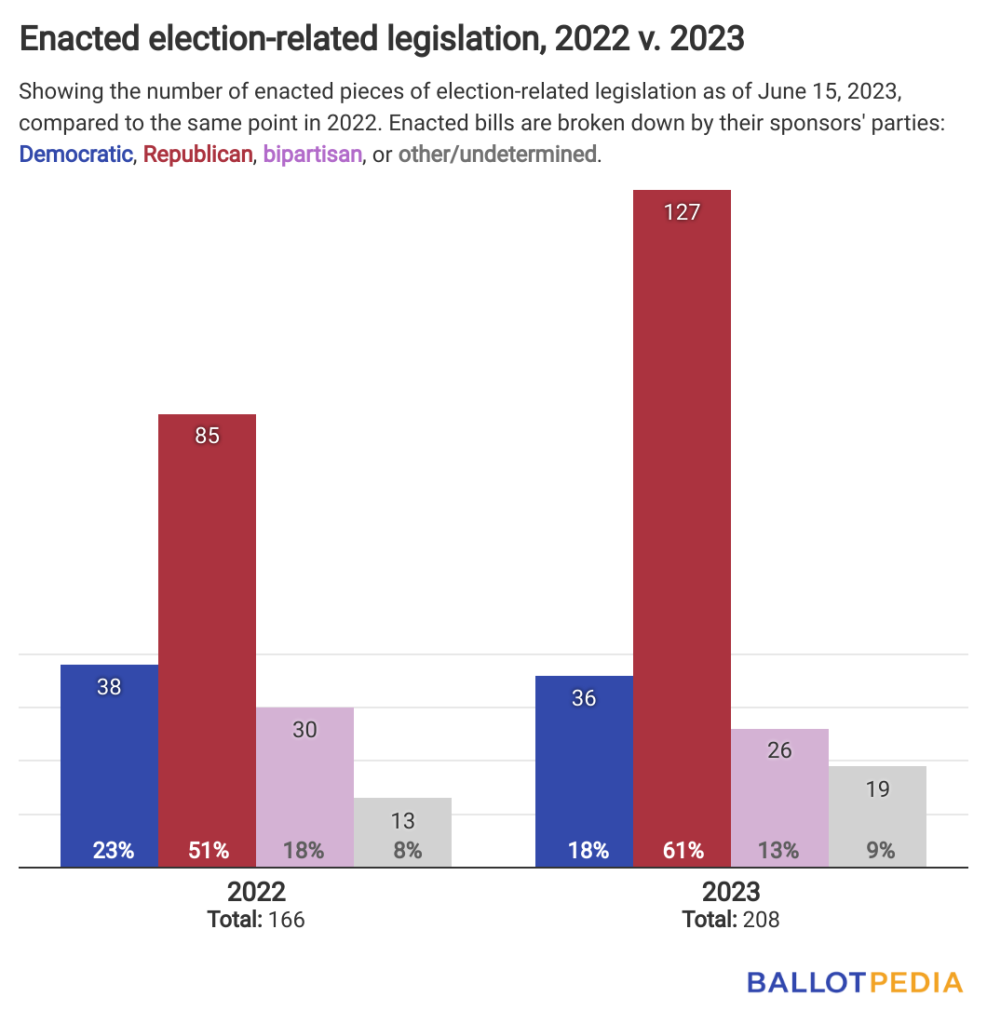 This past week, state legislators enacted 19new election-related bills, including:
Senate Bill 57, in Delaware, which establishes that a political party contesting the position of presidential elector must submit the names of an elector nominee and an alternate elector nominee for each presidential elector position, and makes other changes to Title 15 of the Delaware Code relating to Presidential Electors.
House Bill 311, in Louisiana, which proposes a constitutional amendment to be submitted to voters on Oct. 14, 2023, prohibiting "funds, goods, or services donated by a foreign government or a nongovernmental source" from being used for "any function or duty established in the election code or to conduct an election" except when authorized by the secretary of state.
House Bill 3159, in Texas, which provides that a person eligible for early voting by mail may receive and cast a ballot using an accessible absentee mail system approved by the secretary of state.
In addition to these 19 newly-enacted bills, 16 other bills have moved further along in the legislative process over the past week: eight passed both chambers and are awaiting final approval, and 18 passed one chamber, moving on to the next.
You can view a full list of enacted bills this year here.