There are 44 contested state legislative primaries coming up on Aug. 8 in the Mississippi House, a decade-low for the chamber, down one from the previous low in 2019.
While the total number of contested primaries is down, the number of contested Republican primaries is at a decade-high. This year, 30 state legislative races have more than one Republican running for the party's nomination, up from 24 or 25 in previous years.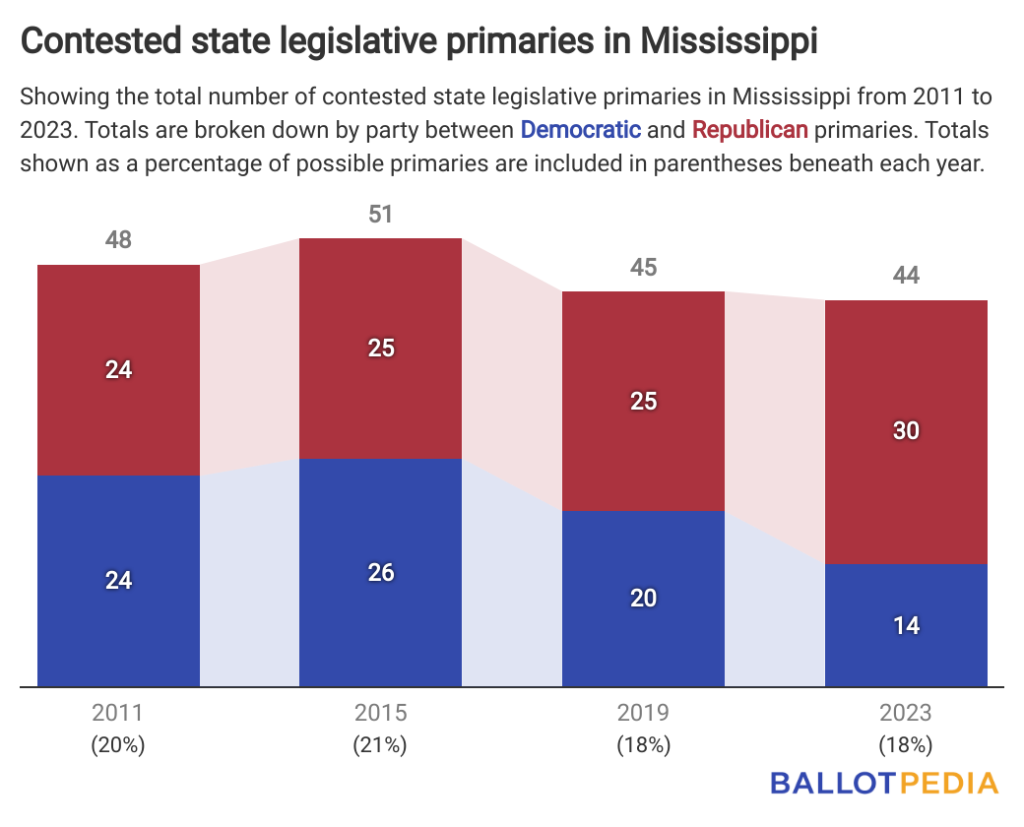 Ballotpedia identified six battleground primaries in the chamber: one between Democrats and five between Republicans.
District 72 is holding one such primary between four Democrats. This district is open, meaning the incumbent is not running.
The Mississippi Clarion Ledger's Wicker Perlis wrote, "[S]ome of the names of those running may still be familiar to the district's voters … The four candidates … include those related to prominent local figures."
Those candidates include:
Justis Gibbs, an attorney and son of the district's outgoing representative, Debra Gibbs (D);
Synarus Green, who previously worked as a legislative aide to U.S. Rep. Bennie G. Thompson (D) and as chief administrative officer for the City of Jackson; 
Rukia Lumumba, a legal professional, daughter of former Jackson Mayor Chokwe Lumumba (D), and sister of current Mayor Chokwe Antar Lumumba (D); and,
Ailean Stingley, a licensed healthcare professional.
Another battleground, in District 23, is also a rematch.
Incumbent Perry Van Bailey and Andrew Stepp are running in the district's Republican primary. The two faced off in a special election on Jan. 10, 2023, when Van Bailey defeated Stepp 50.1% to 49.9% with a margin of seven votes.
Biloxi City Council President Felix Gines, criminal investigator Zachary Grady, and former Harrison County Republican Club President Phil Harding are running in the Republican primary for District 115.
This district is open, meaning the incumbent is not running.
Gines was the district's Democratic nominee in 2019 when he received 48% of the general election vote. He switched parties to become a Republican in 2022 and has received endorsements from the Mississippi Public Education PAC and Biloxi Mayor Andrew Gilich.
Grady received endorsements from the Mississippi Manufacturers Association and the Mississippi Association of Realtors.
Harding received an endorsement from the Mississippi Freedom Caucus.
Mississippi uses a runoff system. If a candidate receives a majority vote in the Aug. 8 primaries, they advance to the general election. Otherwise, the top-two vote-getters advance to a runoff on Aug. 29.
While the outcome of these primaries and runoffs will affect exactly who is in the Mississippi House next year, Republicans are—for the first time in over a century—already guaranteed a majority in the chamber.
Sixty-eight elections have Republican candidates running without Democratic competition, effectively guaranteeing that Republicans will win 56% of the chamber's 122 seats. Democratic candidates are similarly guaranteed 36 seats, and one is guaranteed to an independent, leaving 20 seats contested between both major parties.
Learn more about the Mississippi House elections and the battleground elections Ballotpedia identified using the link below.