Eight presidential hopefuls are set to appear at the first Republican presidential primary debate tonight: North Dakota Gov. Doug Burgum, former New Jersey Gov. Chris Christie, Florida Gov. Ron DeSantis, former U.N. Ambassador Nikki Haley, former Arkansas Gov. Asa Hutchinson, former Vice President Mike Pence, entrepreneur Vivek Ramaswamy, and South Carolina U.S. Sen. Tim Scott.
The candidates above each met a polling and fundraising threshold to qualify, and signed several Republican National Committee pledges, including one pledging to support the eventual Republican presidential nominee.
Former President Donald Trump met the polling and fundraising thresholds but said in an August 10 interview that he did not plan to sign the loyalty pledge. On August 20, Trump said he would not be attending the debate.
Two other candidates said they met the debate qualification criteria in the days leading up to the August 21 qualification deadline but did not ultimately end up making the cut: businessman Perry Johnson and Miami Mayor Francis Suarez. Politico's Zach Montellaro, Kierra Frazier, and Steven Shepard wrote, "The RNC's vague qualifying rules for polls led to a flood of surveys being released over the closing days of the qualification period, muddying the waters for who would actually appear on stage."
We have identified 15 noteworthy Republican presidential candidates so far in the cycle, meaning 53% of the noteworthy candidates will be appearing on the debate stage tonight. This is the lowest percentage of noteworthy candidates participating in the first debate since at least 2016. See the chart below for how that compares to the first presidential primary debates in 2016 and 2020.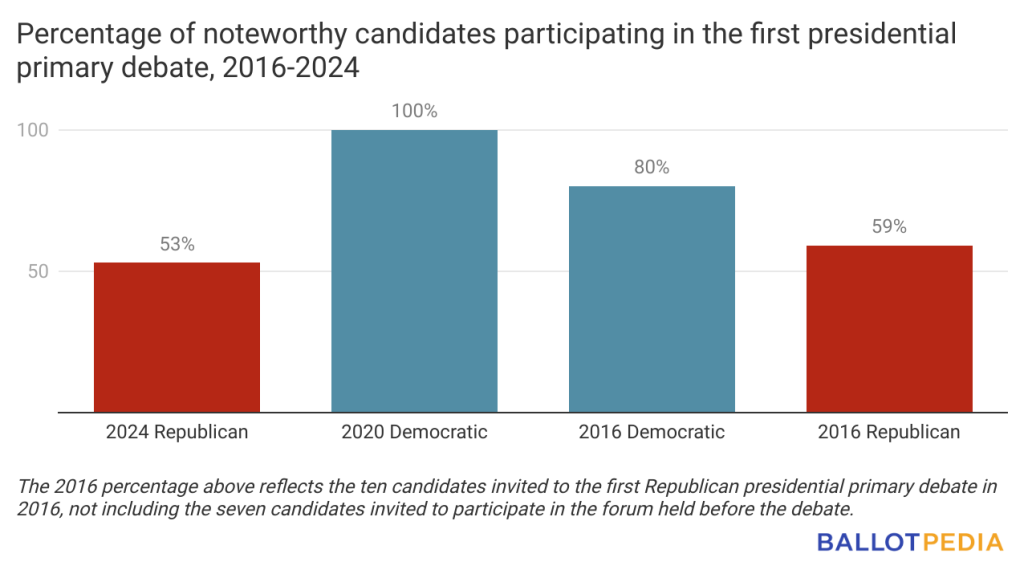 Of these first debates, we've identified the second-fewest noteworthy primary candidates at this point (15). We identified the fewest at the time of the first 2016 Democratic debate (5), the second-most at the time of the first 2016 Republican debate (17), and the most at the time of the first 2020 Democratic debate (20).
Besides the number of noteworthy candidates, there are also differences in how candidates were selected for the debates over the years. This cycle, candidates had to meet a polling and fundraising threshold, and sign a loyalty pledge. In the first 2020 Democratic debate, candidates could meet either a polling or fundraising threshold.
The 2016 debates only used a polling threshold, with candidates needing to make at least 1% polling to qualify for the Democratic debate, and the ten highest polling Republican candidates being invited to participate in the first Republican debate.
Tonight's debate will air at 8 p.m. central time on Fox News. It will take place in Milwaukee, Wisconsin, at the Fiserv Forum. Fox News' Bret Baier and Martha MacCallum will moderate. We'll be covering the debate. Watch this page tomorrow for in-depth summaries of where each candidate stands on the issues.
See also: