Florida's minimum wage will increase by $1, from $11.00 per hour to $12.00 per hour, on Sept. 30, 2023.
The increase is due to a 2020 initiative, known as Amendment 2, which was approved with 61% of voters in favor and 39% of voters opposed. The amendment was designed to raise the state's minimum wage, which was $8.56 in 2020, to $15.00 per hour by Sept. 2026.
The minimum wage in Florida will increase to $13 on Sept. 30, 2024, $14 on Sept. 30, 2025, and finally, to $15 on Sept. 30, 2026.
The amendment requires an annual adjustment to the state minimum wage based on increases to the Consumer Price Index for Urban Wage Earners and Clerical Workers (CPI-W) beginning on Sept. 30, 2027.
In 2023, the minimum wage was set to increase in 27 states and D.C. The increases range from $0.23 in Michigan (a 2.28% increase from 2022) to $1.50 in Nebraska (a 14.29% increase from 2022).
Going into 2023, 20 states used the federal minimum wage rate of $7.25, and 30 states provided for state minimum wages above the federal minimum wage.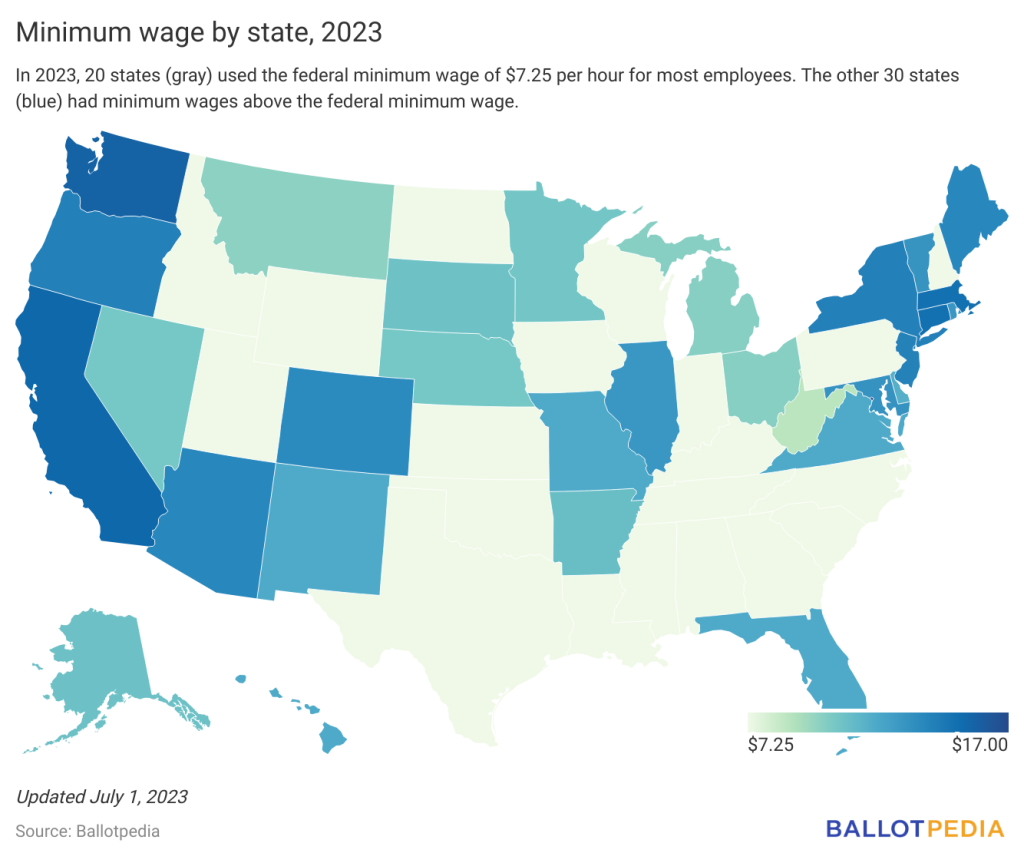 After 2023 increases, minimum wages were set to be highest in Washington, D.C., at $17.00, and Washington state at $15.74, and lowest in Georgia and Wyoming, where the states' $5.15 minimum wages are superseded by the federal government's $7.25 per hour requirement.
An initiative in California to raise the minimum wage to $18 per hour by 2026 has qualified for the 2024 ballot. Signatures have been submitted for an initiative in Michigan targeting the 2024 ballot that would incrementally increase the state's minimum wage to $15 by 2027.
From 1996 to 2022, there were 28 minimum wage increase measures on the ballot. Voters approved 26 (92.86%) and rejected two (7.14%). As of 2022, the last time that voters rejected a minimum wage increase measure was in 1996, when measures were defeated in Missouri and Montana.
Additional reading: