Rhode Island has 44 contested state legislative primaries this year, 19% of the total number of possible primaries, and a 29% increase from 2020.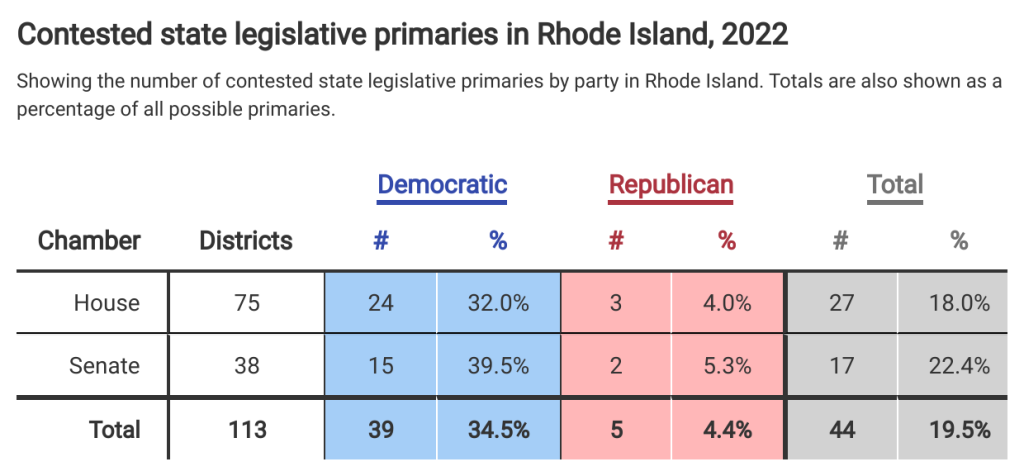 The rate of contested primaries this year is at its highest point compared to the four preceding election cycles.
Of the 44 contested primaries, there are 39 for Democrats and five for Republicans. For Democrats, this is up from 33 in 2020, an 18% increase. For Republicans, the number is up 80% from one in 2020.
Thirty-two incumbents face primary challenges, representing 32% of all incumbents running for re-election. This is similarly the highest rate compared to the four preceding election cycles.
Of the 32 incumbents in contested primaries, 30 are Democrats and two are Republicans.
Overall, 236 major party candidates—159 Democrats and 77 Republicans—filed to run. All 75 House and 38 Senate seats are up for election.
Fourteen of those seats are open, meaning no incumbents filed. This guarantees that at least 12% of the legislature will be represented by newcomers next year, the second-largest such percentage compared to the four preceding election cycles behind 2018 when 13% of seats were guaranteed to newcomers.
Rhode Island has had a Democratic trifecta since the party won control of the governorship in 2012. Democrats currently have a 65-10 majority in the House and a 33-5 majority in the Senate.
Rhode Island's state legislative primaries are scheduled for Sept. 13, the 17th and final statewide primary date of the 2022 state legislative election cycle.
Additional reading: